Cloudy MacLeod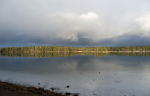 Fri, 09 Oct 2020
Annie tiptoed through life as if something bad was going to happen. I used to watch and listen for her. She smelled of carbolic soap. That fresh clean smell. Never tainted.  Annie and her wee sister lived next door to me—forever. Annie's mum was fat with square hair and a face like a half-eaten pudding. Her mum was pals with my mum. Never out of each other's houses. Her dad was ordinary.
  That was the way I liked to remember it.
Annie's shoulders were hunched and knees tight together, her feet curved inward. She hid behind me. We huddled away from the other school kids as we waited for the SMT bus.
We kept a respectable distance from Debbie—does Dallas—although, technically, she lived not far from us in snotty Boquanran and dressed to unimpress. She was a moon-faced, punk rocker with fluorescent hair at weekends. On Monday mornings, with less makeup, a heavy-stepped third-year girl in school uniform and brown tights with a smidgen of Apple lip gloss and a gallon of cheap perfume. But on other weekdays, when we were both running late, and no one else was about to see us, she slinked up beside me, and we stood at the bus stop on the corner of Duntocher Road and chatted.  
My hands were jammed in the pockets of my man-size, camouflage-green, Parka. The igloo-style furry hood kept out the first drifts of snow. My school jacket zipped up over a light blue nylon school shirt and stripy tie and kept me dry. And it absorbed any bad breath, and acted like blinkers. We all needed blinkers.  I thought of it as a survival tool. So I didn't need to see too much, or turn my head to be seen.
Cloudy MacLeod, an English teacher christened me with the nickname in the first week at St Andrew's Secondary because of my height and gangly limbs, and because of my day-dreaming. I'd also made the sorry mistake of scoring 100% in the Math exam. The highest- ever score in the school. New-built, comprehensive enough in many ways.   I was labelled a brain box by the head teacher, head and shoulders above even the sorriest bunch of fourth-years he'd ever seen. But I'd ignored the fuss, sucked in my breath, hunched my shoulders and tried to make myself smaller, which didn't help. I made sure I never scored well in exams again.  
But it still made me a target, point-scoring, for girls like Debbie, with an eye for Brodie and his mates. Their gang stood in twos and threes, half-in and half-out of the bus shelter and blocked the pavement.   
'Twos-up,' Debbie cried as she tried to cadge a dout.
Brodie nicked the end of the fag with two fingers and passed it in front of her face to his cousin, wee Tam with the pocked skin.
'Fuck off,' Brodie cackled and licked his lips. 'I don't want your fuckin' saliva, all o'er it, or anywhere near me!'  
He rubbed his belt buckle and the flap over the zip of his denims. The other boys shuffled closer as they laughed, bumping against Debbie.
'Did you see that programme, last night?' Annie's eyes darted sideways, looking through the silhouette of black overhanging branches of tress in the next garden, and toward the chapel, searching for the bus.
My head was muddled. 'Aye,' I said. 'Basil Brush, daft as a broom, boom-boom'.
At the sound of my voice, Brodie rolled his shoulders, turned his square Neanderthal head and glared. But it was Annie he was staring at.   
Annie smiled at me in that special way. Eyes of warm honey that turned to liquid gold. She grabbed my hand. A Balloch bus was cutting through slush on the wrong side of Duntocher Road, and it slowed at the long horseshoe-shaped bend. I'd my red Adidas bag and she'd a smaller leather satchel. But we sprinted hard, hand in hand, diagonally across the road dappled with fast melting snow to the opposite bus stop. She stuck her hand out, the bus brakes squealed. I stepped onto the platform, out of breath, more from excitement than exertion. She was at my back. We'd stepped out of the world.
We took the back seats of the bus, something, normally, we'd never dare do. We were half way to Dalmuir before the conductor got to us. Too late to change our mind.
'Where you goin'?' she stank of stale fag smoke and measured us with practiced eye, a hand on her ticket machine.
'Two halfs to Old Kilpatirck,' I pulled loose change out of my pocket.
She laughed in an easy way, winked at Annie and rolled in the aisle with the juddering movements of the double-decker, 'If you're boyfriend's a half, I'm a man on the moon'.
'He's not my boyfriend.'
We'd been holding hands, but she let go of mine, to emphasise her point. I wasn't even sure she'd noticed. But I did.
'Go on then,' said the conductor. Looking at me and then at Annie. 'Two-halfs it is. Sixteen-pence.'
I held out two ten pence coins. Annie didn't need to do anything to charm people. I was the opposite. Always getting adults backs up. My hand drifted, felt for Annie's finger, but her hand was tucked safely into her lap. Side of her head leant against the damp window as she gawped out.
'Where we goin'?' 
'Dunno,' I replied as if I hadn't been thinking about it. 'Far, far, away. Up the hills, past Filches' farm and far away?'
***
Her body quaked, and I shivered too, but not only with the cold and wind. Her bare feet white and fragile as porcelain, pale in a pale world. I breathed and the Old Kilpatrick hills breathed with me, setting our world away from the fog of buses and cars and other people in motion.
Winter was locked inside scree and stone, but I held out my hand. Our fingers touched as she stumbled towards me and guide her through spongy moss and rock to the edge of the reservoir. Our hands locked. I pulled her closer, daring to cuddle her bony hip.
We crunched through thin ice. Our legs were bird-like stilts, and I viewed them with amazement as our feet turned to blue shale as we waded. She splashed me and then launched herself into the water with a splash. I stood, ox-like, my eyes memorising her hair, silvery body, and pert bum. I fell forward and clawed at the water in an improvised breath stroke. I wasn't much of a swimmer.
Head up, she sat atop the water. Her breasts were gobstoppers, red and pink swirls.  Swan-like, her arms doing the breast stroke seemed to be waving me away. Freezing water hit a blow to the pit of my stomach, and I spluttered, but it also hid my hard-on. I prayed that she hadn't noticed the way it crept up my stomach. We were just in the water then we were out, although it seemed longer, much longer.
We'd dared and dared, testing each other's honesty. One jacket taken off for one jacket taken off, one shirt for a blouse, one shoe and sock at a time—we'd gone and done it. I'd twisted my body sideways to hers. Grubby Y-fronts crumpled in my hand, as if I didn't know where to fling them and couldn't look her in the face. She couldn't look at me either, stood cupping her little tits with her hands, only her knickers clothing her and her feet turned inwards. Then she stepped out of them. Nudie. We triumphed against the elements.
My face and neck felt aflame, a total reddy. She glanced sideways, giggled, and took my hand again, even though she was more sure-footed, as we picked our way ashore. But my cock was still leading the way, bouncing ahead of us.  
In the far grey green of the hills, a lonely bird t-sipped, t-sipped, and I looked around but couldn't spot it. I towered above her and wanted to stroke her skin, her arms with her blue veins showing and her girlish legs. Touch her. Really touch her.  For a moment as she picked through her clothes I stared at the blondish hairs, a puffy child's outlining her pussy lips. And I want to lie her down, force her down as I was sure Brodie and his pals would—and make her do stuff.
I could hear his gravelly smoker's voice, 'Practically asking for it'.
Clear-eyed, her pink nakedness stares innocently back at me.
'Freezing,' she chittered. Flapping her splayed fingers and heel of her hands beating against the side of her arms to heat up. She lifted he wet hair, worked the strap of her bra up her back, pinned it with one hand, and adjusted the cups. Fiddled with the back-buckle before it was properly on.
I bunked down on icy ground, pulled on my pants. They smelled and felt damp, but helped to hide my shame.
'We should build a fire,' she had her blouse newly on, over her pants, still damp, but making her seem more like her old self. 'To get warm.'
'We've no matches.' I stepped closer, felt as if I'd rocks in my mouth. I'd one hidden, cupped, in my hand. 'Can I kiss you?'
'No,' she shook her head and cried. 'Why'd you want to do that? – spoil it.'