Grimms53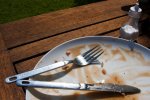 Sun, 09 Apr 2017
At breakfast Bob plonks himself beside Tony, ready to make a grab at him if he shows any inkling to butcher another resident or even staff, with a plastic spoon, plastic fork or paper plate. Bruno, sitting, the other side of Tony, dips with gusto into yolky eggs or slices through sausage and ham. But metal cutlery on the table is monitored and out of Tony's reach. There's a slight intake of breath from the care worker, a rustle of corduroy, when hot tea is poured –  a splash of milk and four sugars doesn't disguise what a dangerous weapon hot drinks have become. Bruno with lip-smacking relish, calls Tony 'Psycho Ward,' and shelters in the notoriety and respect his new roommate has acquired among other kids. 
Carrot, who seems to live inside a brown duffle with his hood up, makes a joke, picking up a fork and mock stabbing himself in the eye. Titters of laughter makes for a more light-hearted atmosphere. Bob stretches and pushes his chair back, wanders away, searching for his cigarettes and lighter. Julie goes back into a girly huddle with the teenage girls. Bruno hauls at Tony's shirt sleeve when breakfast is over and wants him to follow him to their room, but Tony escapes him and goes moping about the lobby outside the kitchen.
A stopper wedges the door open and the Yale key sticks out of the lock. Cook, wearing yellow rubber gloves up to her elbows, is washing down the work surfaces. 'Make yerself useful,' she says, when she spots him, 'go and get us all the dirty knives and forks and spoons.' She opens a cupboard under the sink and hauls out a pale-blue plastic bucket. 'Stick them in here, but only the dirty ones,' she warns him, with a conspiratorial smile. 'We don't want to be doing double work.'
Tony takes the bucket from her, but before he goes she pulls out another black plastic bucket and hands him that as well. 'Scrape the plates with half-eaten stuff, eggs, cornflakes, sausage, tomatoes, toast. It doesn't matter what it is, bung it in here.' She can tell he is unsure what she means by the look on his face. 'Here,' she lifts a plate from the bottom shelf of a metal trolley with wheels near the sink and bangs a greasy stain of egg and stump of sausage and brown sauce off the side of the bucket he is holding and it slithers into a foul-smelling pool of gunge.
His nose crinkles. 'Whit dae yeh do with it when you're finished?'
'I mix it all up with a big spoon and serve it for dinner.'
He is caught between almost boaking and suspicion she is having him on. Her slow smile arrests his disgust.
'No' really,' she admits. 'We stick the slops in the bin.'
'Won't you get rats?'
'Aye, we dae. I guess they're aw God's creatures.' She stoops by the rattle and hum of the washing machine and roots around to the side of it, pulling out a dark brown bottle, with a medicinal hue. Tony recognizes the stained markings, yellow skull and crossbones from books about piracy, but didn't expect to see it on a label in the kitchen with a red cross giving off a different set of warning and instructions.  'Rats are a lot smarter than some people gee them credit for. They get a whiff of this and they know.'
'Does it kill them?'
'Aye, sometimes. But then they know to keep away.' She shrugs. 'Scoot!' Snapping them out of the melancholy tone with a smile. 'When you come back I'll gie you a bit of tablet. Bad for the teeth, but good for the soul.'
The dining room is empty of people, chairs higgledy-piggledy and tables awash with dirty dishes, something Tony hadn't really thought about, until he started sorting clean cutlery from dirty and scraping slops into the black bucket. Outside its dreich, spring in retreat, and his view through the window filtered by rain. Hoods are up and hats and coats pulled around hunched shoulders as they head down Risk Street. He recognises Bruno's stuttering run as he catches up with the stragglers that include Carrot's brown duffle and thin legs.
Tony's reward is a tray of super-sweet tablet. His blood boils with sugar as he pigs out, even a cup of milky tea cannot dilute the taste.  The cook watches him and laughs, daring him to try another bit, until it becomes a bit of a contest with himself. She takes a cube of it with her tea and a cigarette to take the edge of it.
'How come you're no' at school today?' she asks.
'I've got a meetin'.'
'Oh, aye, that's wan thing they're good at here is meetings. If they drop a pencil down the back of a settee they need to call the police and bring in all the social workers in the districts, all the high-hied yins and have a big meeting about it. Whit's the point in it?' She grins at him, smoke wafting around her face. 'And I should know because they always want me to get in wee goodies for them. The fancier the cakes and biscuits the more important the people are. That's how I know there's a big meeting on today.' She waves a finger at the tray of tablet. 'Go on.'
'Nah, couldnae eat another bit,' but he does, picks up another square and munches into it. He feels himself trembling and glances out of the side of his eyes at her. 'The meeting's about me. Whether I can stay here. Or they're gonnae take me somewhere else, like a prison ship, or something.' He can hardly swallow and tears well up.
'Och, don't be daft.' She slides an arm over his shoulder. 'They couldnae organise a menagerie, but course they'll let you stay. Where else would I get such a great wee helper? They know better than to mess with me, or they'll get some of that rat poison in their soup.'
Leaning, he buries hot red cheeks in her midriff and sniffles. 'You really think so?'
'Aye, I know so.' She pushes him away, picks a spoon out of the water in the sink and waves it at him. 'Go'n get in there and make sure there's no dirty dishes left on them tables or it'll be me you've tae answer tae.'