Because Of The Color (Short Story)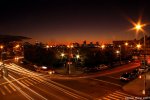 Mon, 28 Dec 2020
I am standing on the corner of Main and Second when I suddenly become self-conscious of my sweater. It's too tight, and, in the strobing light of a neon sign which reads "24-Hour Drug Store", it seems to be piss-colored. In the light of home, it seemed less yellow. I can't stop thinking about the sweater.  Suddenly, everything has become piss-colored. 
He won't care about the sweater. The sweater is nothing. It is to be removed. I think about his messages, the ones he sent in response to pictures of me shirtless in bed, fawning over my smooth chest and flat stomach. I am a collection of body parts he desires fleetingly. But I can't stop myself from feeling like a meatsack inside a piss-coloured sweater.
His car pulls up, all shiny and black. I know nothing about cars, except that he's somewhere inside this particular one. He rolls down a window and beckons for me and I smile, walking over. I'm not sure where to sit but he opens the front passenger door for me.
I smell him first. It's a cologne I don't recognise - although I suppose I wouldn't recognize any cologne's scent. I don't wear it. I started wearing deodorant four years ago after Mom wordlessly bought me a bottle, in the way Moms do when they don't want to talk about their son's changing bodies. At some point in middle-school I started spritzing myself with the aggressive scents of body-sprays with brand names like Tiger and Hunk, myself and other boys forming clouds of obnoxious scent in locker rooms. But cologne is something foreign and adult; something he is doused in.
He has enough hair that I wouldn't say he is balding, but his hairline arcs in a distinct way that portrays his middle-age. He grins briefly, flashing white teeth like ceramic. When I sit next to him, he rubs my arm tenderly. You look just like your photos, Elijah, he coos, putting the car in drive.
We talk during the ride to his house. He reassures me he wants me to be comfortable, but I have a sense that my discomfort is an important aspect of it for him. My perceived naivety is a turn-on. He also likes when I mention school, reacting viscerally to the word itself, like a little boy hearing vaguely sexual words like titty and pussy. 
He holds my forearm, as if guiding me, while we walk from the car to the house. We'd gone through a series of locked gates that opened on his command and he explained each one to me in detail. I'd wondered whether things like security systems and automated fences would one day fascinate me like they seemed to do for him.
Once we're inside, he gives me a tour of the house that ends with the bedroom. The house seems not quite real; the scenery outside each bay window is a matte painting. But maybe that's because I'd prefer it that way. I enjoy a performance. 
He lays me down and talks me through the mechanics. I ask questions I already know answers to because I've established he enjoys that. The sex is rote and passionless, but for a moment, when he cums, the facade drops and I can see inside him. His wants and worries on display like viscera on an operating table. Like the aftermath of a birth; an abandoned placenta. He cleans me up and pats my bare thigh like he's congratulating me. 
On the way out, the house feels more real. I see things I hadn't noticed. Gaudy placemats askew. Peeling wallpapers in corners that are too hard-to-reach to bother fixing. Little things that mean nothing in isolation but coalesce, like landlocked countries on a map - he has children. It's in the air, the clashing of kitsch and tchotchke. He is perfectly polite and doesn't rush me out, so the children mustn't live here. At least not all the time. After paying me, he even drives me back to Main Street, where I'm piss-colored again. 
The whole way back, I thought about his children. Not in a sad way. I didn't feel pity for them. But I thought about their youthfulness, which, unlike mine, would be unperformed; innate. And I wondered whether they sense - because they could never know - that, for some men, that very youthfulness is so commodified, like meat for fucking. 
The thought stays with me for a long time. But soon, like all other uncomfortable thoughts, I assume it will shrink down into a place I can't access. A recess somewhere in my mind, waiting to dance its way into my thoughts one night while I await sleep.
When I get home, I take the sweater I wore and bring it to Mom. I tell her it's not my style anymore. She says she'll take it to the thrift and see what she can get for it. Before I head back to my room, she asks me why I don't like it anymore.
I tell her, because of the color.