Walking home from shopping 8/3/18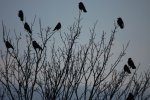 Fri, 09 Mar 2018
You know how, if you find a piece of quartz
on the beach and hold it up to the light
you can see white, cream and amber fractured
bright as the feathers of a fallen angel's wing?
That is how the sky was this evening
facing North leaving the supermarket.
Shadows fold in sealing an envelope
of cool air, clear, fresh, rich with a memory
and a wish for rain from the sea beyond
tabby-stone four storey flats forward right,
out of earshot yet still charging the space
between sparrows' chirrups from a garden
beside the carpark, sounding like children
too bouncy for bed. Black telephone wires -
veins from the stem of a skeleton leaf -
reach into each home bringing outside in.
Tall chimneys on the roof are pale brick, new
but ferns fringe their tops and jackdaws in pairs
are courting on the slate angles and slopes;
they fly off together towards the trees,
landing as if playing a gentle chord
on black notes of a piano, branches
of ash and elm growing along the road
sharp left past the sparrows' flats. Up the hill
seagulls pearl grey wheel wide winged carving time
into slivers of wonder at their grace
or watch, grave and still and wise as judges
from the highest efforts of man made things
their town's fellow inhabitants (earth bound).
A few rooks settle with black pennant wings
in slender beeches of the corner copse
where the footpath's been blocked with wire mesh.
And then song of robins, blackbirds, thrushes
day's treasure thrown into the pooling night