This October Brings Endings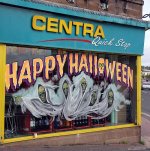 Tue, 08 Oct 2019
I made my first winter soup today.
Leeks, turnips carrots and celery
lashings of Provence herbs, onions
and garlic. Boeren soep they call it
round here. Mine's with spuds to
to thicken it up. I suppose that makes
it "in het Engels wijze." Dunno really.
What I know is, outside the grey rain
and shedding leaves mean the light
broths and vichyssoise are out now
and ice cold Gazpacho is a forgotten
memory. The Dulux white mushrooms
in next door's lawn look inviting, but
they're all show and definitely no go.
The hazels are gone; stashed by squirrels
or washed away by October downpours.
Empty husks of walnuts by the river are
all that's left and the prickly protectors
are splitting up and dumping mahogany
coloured sweet chestnuts on the grass.
I can't understand why nobody grabs them.
A decent size pot simmers in the kitchen.
Should be enough for about three days.
I fancy being more adventurous this winter.
Maybe Witloof and lentils or even a stab
at Gentse Waterzooie met kip or vis perhaps.
Something to keep me busy – is making soup
while days shorten and cold politics entrap me.