Empty Manifesto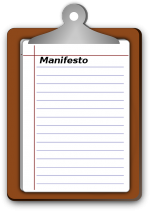 Tue, 19 Sep 2017
While we redefine ourselves, our nation, we have politicians of the sleb generation.
Vote for Brexit, vote for me, vote for my ce-leb-rity.
Soundbites, cat-fights, tabloid drivel,
if you don't like my haircut, you can all swivel.
Blowhards to the left of me, buffoons to the right
they're cuffing it so hard, so it's alright on the night.
And we vote them in, then they toast us with gin
'til they're all catatonic and Sick-man Britain's illness is chronic.
We laugh and we joke at our betters' expense,
it's the moral high ground against cold common sense.
There's money for parliament's reconstruction,
and a campaign for schools' Religious Instruction,
or limited war in another ex-colony with concomitant dead,
just 'cause the colour on the map was red.
While people sleep one step up from a sewage-run gutter,
we walk on by with a lone-dropped coin and an apologetic mutter,
'cause it's their own damned fault and they're probably a nutter,
and it's over in a flash and the camera's clicked shutter.
Tax it, waste it, lick it, taste it,
show us the money, show us the stats,
we meet all the targets, these ARE the facts.
We are you, writ large with our greed,
to the few - the most - regardless of need,
we'll promise the earth to the narrow of girth
and the fat of wallet can't hide their mirth.
The poor are the fools, the tethered goat,
and they are so dumb, they continue to vote.