The Picture Ranch 1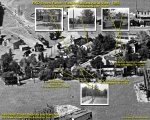 Sun, 17 Jul 2016
1 likes
[Audio now available at: https://soundcloud.com/user-224867227/picture-ranch-1 Turn it up!]
I don't believe in miracles. Clients do. They expect them every day. I believe in giving them what they think they want, as long they pay $25 dollars a day plus expenses, but I don't do miracles. Just tricks: if they don't see how I palmed the pea, they can look under the shells they want.
Clients come in all shapes and sizes. If a looker opens Mike Fisher's office door I don't complain. My office isn't far from RKO's place. Plenty of people come over from The Picture Ranch. I even had Sam Briskin's gofer in a while back. Movie people are good customers, but it's damn surprising how many of them believe in miracles. They make dreams out of sawdust and celluloid every day. Just shows to go, you can kid a kidder.
A few months ago, there was a knock on the door. Most people don't run to that much politeness. If the door doesn't hit the file cabinet on the back swing, I figure the client is welcome. The gal who came in looked like she was auditioning for the part of the high-school librarian. The clothes were right but the body wouldn't have got the part, it's a fact. She was wearing horn-rims and her hair in a bun so tight I wanted to pull out every bobby-pin, just to see if her skin really was that smooth. I figured her for an actress, but I was wrong.
'Mr Fisher?'
The horn rims were real. Her eyes were so big behind them that she must have been as blind as a mole.
'Yeah. What can I do for you?' I took my feet off the desk, since she seemed quite the lady and all.
She was standing by the chair on the other side of the desk. I wondered what she was waiting for, until she gave a sniff and nodded at the chair. I stood up and held the chair while she sat down. Then I sat down. I thought of offering her a snoot from the bourbon in the desk drawer, but changed my mind.
'I need you to find someone.'
'I can do that. Anyone do ya? 'Cause if it's someone you had in mind that'll be extra.'
'Very droll, Mr Fisher.'
I'd had a lot of clients sitting in that chair, but I never heard anyone use that word before. It was the kind of word that you might see in a book, but not one I'd ever read twice.
She sat, knees together, like a spinster at a church dance.
'It's my brother. He's fifteen. He's run away.'
I listened for the 'from home', but it didn't come.
'Fifteen, huh? Big for his age? Got a GF?'
'A what?'
'A sweetheart, squeeze, you know.'
The lady let out a long sigh.
'No, that is - I don't know. He ran away from school. Military School. Over in Carlsbad.'
'That's a hunnert miles away. Don't you think you need a San Diego guy for this? I gotta numb-'
'I said that's where he ran from, Mr Fisher. I'm his only living relative.'
'Well we know he hasn't run to you, Miss....'
She stood up, 'I do beg your pardon, Mr Fisher. Miss Eleanor Gräfenberg.'
We shook hands, she didn't take her glove off.
I waited for her to sit down and I think she thought about smiling.
'You will have to visit the school, of course, but I am sure he has come to Encino. Quite sure.'
'Well pardon me, Miss Grey-Fun-Berg, but why don't you just wait for him to turn up?'
'He ran away a year ago.'
My jaw just about bounced off of my tie knot.
'I did not know he existed until last week. When the lawyer came to... my workplace.'
'What's the deal here, Miss G? It sure sounds goofy. Maybe you better start over.'
It was a long story. Turned out Miss Gräfenberg had been Little Orphan Ellie almost all her life. At the Sisters of Mercy Orphanage until she was 18 years old, she'd refused the habit and rode a Greyhound to Los Angeles where she got a job filing at the Times. About a year ago she'd taken a job at The Picture Ranch.
'More filing,' she said.
'But it's the movies, yeah, I know.'
'No, Mr Fisher, no you don't. It's more money and it's away from that damned newspaper, with its boosterism and simple corruption.'
I'd never thought I'd hear someone say they preferred the movies because people were more honest.
Miss G went on and I let her, because she really was a fine package, when you looked close enough. She told me the lawyer, one Towne, had come to the RKO offices out at the Picture Ranch Friday previous. He was looking for the boy. William Mulvaney.
'Mulvaney?'
'That's his name, and the name of his adoptive parents.'
'Which Mulvaney's are those? Are they LA Mulvaneys? Water Board Mulvaney's?'
Miss G looked down at her shoes. Nice shoes, not B-girls' shoes - but they did plenty for her legs.
'I believe they are.'
The boy's disappearance had been in the paper Miss G had used to work for, not so long ago.
'How'd they find you?'
'I imagine they traced me via the Times. William was one of Georgia Tann's out-of-state adoptees.'
'Who?'
'Whose, you mean. Georgia Tann sells babies.'
'Someone like that keeps records?'
'Evidently, Mr Fisher. I imagine anything can happen in Tennessee.'
I shook my head, 'People really buy babies?'
'You'd be surprised. Why Joan Cr-' she broke off, but I knew that the former Lucille LeSeour wasn't much bothered about how she got what she wanted anyway.
'What do they want with you?'
She picked a piece of lint from her skirt. 'I'm his nearest blood relative. The money comes to me, if he isn't found, that is.'
'So why look for him, you'll be rich in five years or so.'
My jaw did that thing again when she said, 'I don't want the money.'
'Wait a minute, you're five years older right? From an orphanage? How can you have a brother at all, never mind one five years younger?'
'You are most kind, Mr Fisher. William Mulvaney is fifteen years younger than I.'
I hadn't eaten breakfast, but that was just about the sixth impossible thing she had asked me to believe since she walked in.
'Well, anyhoo, don't see how you can have a brother.'
'Well, clearly, he is my half-brother. Mr Towne told me that we share a mother. The orphanage has no record at all. I was a foundling. It could be true, of course.'
She looked down at a cuticle and I could tell she doubted that it was.
'So I'm to go to the school, ask around, then what?'
'There is a letter. He wrote to me care of the orphanage. The Sisters of Mercy posted it on. I got it yesterday.'
She held up a hand, since she saw mine palm up, outstretched. 'No, you can read it after you've been to the Military School. Go there first.'
She stood up and held out a hand.
'It's $25 per diem plus expenses, isn't it?'
I shook on it and said, 'A $100 in advance.'
She took out her purse and handed over a Benjamin.
'A pleasure doing business, Mr Fisher,' and in spite of the fact I enjoyed watching her rear view all the way out the door, I had a feeling it wouldn't be for me.