We Built This City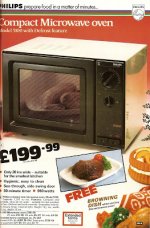 Mon, 16 Nov 2020
In The Analogue Kitchen, it is 1985:
on Forces Radio, Knopfler's international pub band
is moving microwave ovens,
whilst mine ticks to a final buzz,
defrosting rump-steak liberated from a vast cellar
far below the Airmens' Mess,
food deep frozen against a second Berlin Blockade
that will never come.
The DJ drivels.
The record changes.
In my head, there are voices; accented Russian,
pilots - born in Tallinn or Tomsk - Talk-Talk,
"It's my life, don't you forget…"
I am exhorted to check my vehicle,
before every trip to work or leisure.
I've cracked another NAAFI-bought tube.
Soundtrack: another one-hit-wonder from down under,
so catchy and insistent that Me-Mark-Page
is ruining the moment at 500 miles remove.
All Radio Jocks are Jagger in their dreams.
Maybe I should make a vegemite sandwich, instead.
Out of the window, the sports field is deserted,
It could be Laarbruch or Brüggen,
instead of the City of the Bear
- but for the lack of Allied Jets
doing test runs on the ground.
I laugh as I remember:
our leafy outpost in the DDR*
is called Butlitz by those in the BRD.**
The double-glazing rattles as Marxwalde MiGs
break the sound barrier, East Germany's toy Air Force
piloting Soviet cast-offs in a show of independence.
Marconi is playing a snake,
I'm listening to the radio,
We built this city on Rock and Roll.
Footnotes:
* Demokratische Deutsche Republik               East Germany
** Bundesrepublik Deutschland                      West Germany