Rooks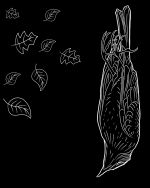 Wed, 11 Nov 2020
4 likes
Rooks
Past the backbone's second hump and hollow hawthorns,
a foam of brackish snow and distant light.
I heard them first, a row of hanging rooks – inverted.
One eye that held a gaze – pestled sockets,
beaks torn or lost or tethered by a lonely vein
or sported at a jaunty angle - here
a stretch of fossil wing unfinished.
The nearest and the first, a head down,
an open smile from tip to root, a happy darkness
and a warning.
The wind picked up. I watched them dance.
They come to me at different times – a restless night,
the carving off the bone – the thread of veins exposed
against the light.