Spank the Monkey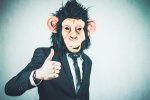 Thu, 04 Apr 2019
Winston was contemplating the mental mechanics of a second wank of the morning, when the doorbell intervened and he was forced to set aside his tablet and throw on a dressing gown. He'd heard the van moments before but ignored it, occupied as he was searching upside down (and without success) for the lotion he kept under the bed and which he now believed had been moved by that killjoy-bitch Tabitha, probably because she suspected foul play. 
"Big bastard package for Winston C Smith. Sign here mate." Winston noticed the driver was pretending to smoke a roll-up, and he thought he could make out the adagio of Mahler's Symphony no. 9 coming from a loose earpiece that rested against his name badge. "Nigel Clarkson".
Another first born Nigel of the New Order.
"My mate Tommy was asking when the last delivery I did out here was and I couldn't remember for bollocks." He watched Nigel disappear into the back of the van and reappear moments later, manoeuvring with difficulty a large square crate which he walked on to the tailgate. 
"That's for me…er...mate? Sure you've got the right…er...bloody Winston C Smith?" 
Nigel didn't seem to have noticed the question (or its clumsy delivery) as the tailgate screamed into life and a big grin crossed his face. "You don't know what's in it yet me ole china... Shits n giggles." Nigel was clearly better at this than him; he would certainly have had more practise. Tabitha had warned him several times that he had to work harder on remembering the unwritten laws of conversation – "mate" or "luv" or a derivative thereof was compulsory for every utterance and it should contain at least one expletive, preferably more. Living so far out in the sticks and not seeing anyone (other than Tabitha) didn't help matters either, and it immediately put him under suspicion - only "communists", "gays" or the elderly lived in the countryside. He suspected Nigel was putting on an act (his aftershave was definitely not government issue Brut) but the 2019 Brigade had informers everywhere and he didn't want to be sent to the Isle of White Reconditioning Centre for being a suspected Libtard.
The crate was now blocking the hallway and a beaming Nigel, happy with his work, stepped back onto the path, spat on the pristine lawn and saluted "England's Glory" - before punching Winston hard in the face. Winston responded as best he could, but his salute was more of a tick and after noticing the swellings and bruises on Nigel's battered face, could only muster a tepid right hook. After the smoking wheels of the white van had covered a suitable distance, he allowed himself to wince, a reaction both to the pain of his throbbing cheek and eye, and the missing apostrophes on the side of Nigel's van – one of The New Order's first edicts had been the banning of all apostrophes, (even for contraction) as they were deemed to have been a key weapon of the leftist traitor in the great Battle of Brexit (online). 
__________
Winston sat cross-legged on the floor; in front of him a monkey in a cage scratched itself, looked around warily at the new surroundings, but mostly just stared right back at him. It was covered in its own shit and piss. In his hand he held a printed note from his Aunt Mags, that had been taped to the inside wall of the crate. He read it again:
My Dearest Winston,
By the time you get this note I will be dead and buried, and no, you weren't invited to the funeral. As you know the ketamine and painkillers have taken their toll these last years since your Uncle left for Venezuela with The Slut and I can't go on. Don't worry, I know you were never that fond of me, and I can't blame you – all that teasing after I caught you giving the bishop a good old bashing in Arthur's toolshed. Maybe I shouldn't have brought it up that particular Christmas Day, after the disappearances and the raids and your mother's illness - but someone had to lighten the mood. 
Anyway, I bought the bonobo from a chap I met at a Horse Fair in Llandrindod Wells a few years ago.  Alan had a twinkle in his eye (a snake in his trousers!) and a monkey in his lock-up (as it turned out), going for a song. He's been with me at home ever since – the monkey, not Alan sadly. He's mostly house trained now and he's very good company. I had a feeling you would still be alone (I also checked with Jacob to make sure - sorry) and it's just not healthy – so, here he is. He may even inspire your writing. In some ways he reminds me of you Winston!
Please look after him and keep him safe, he really was a good friend to me and I know you'll get on just fine. He loves carrots and spam fritters, tuna if you can get some - I know you know people! Old movies as well keep him happy. Harold Lloyd and Abbot and Costello. Most game shows.
Whatever you do though, keep the Dyson locked away.
Hope to see you on the other side dear Winston. As Rita said, there has to be a better song to sing than this one.
Your loving Aunt Mags.
P.S. I gave him my last Valium. He responds to his name as well. It's Jeremy Corbyn.
 
"Cocking arsebadgers."
There was a knock on the door. For a few terrifying seconds, he wondered how far he would get if he ran and if he'd have time to put his new trainers on - then he heard the key turn in the lock and remembered it was one of Tabitha's days.
"Hello Winston? WINSTON?" A pause. "What in Jesus's name is that godawful smell? What the hell have you been doing?" 
"I'm in here." 
He watched with amusement, as she took in first the mess of the splintered crate and discarded packaging, and then the fact a shit covered monkey was staring up at her. He'd never seen her lost for words before. It was momentary.
"Are you RETARDED Winston? Do you not think you're in danger – you're on THEIR radar. I've told you - I've told you so many times, they'll come for you…they'll find the books and records, all those DVDs – who's a writer these days anyway, and you live out here…and now this, a mail order monkey. Have you actually lost your mind?" 
Before she could go into hyper drive he put the note in her hand and moved over to the cage. He opened it, let it swing gently from his hand and then gestured to the monkey to come out. At first it did nothing, scratched some more and looked glum. He found some carrots, broke them up and then spaced them out, Hansel and Gretel style a few feet apart and waited. There was an interested look for sure, but there were clearly trust issues – how long he'd been in the crate was a mystery, a couple of water tubes lay empty and the excrement told its own story. He decided to try a more direct approach then, moving slowly closer and telling Tabitha to shush, he held out the carrot, noticing as he did his arm shaking, and left it there. He was loathe to say that name, even within the safety of his own four walls, so heinous a crime was it, but he knew it might clinch the deal.
"Go on. A nice carrot for you… Jeremy Corbyn. I bet you like…" and as easy as that Jeremy took the carrot and started eating. He turned and grinned at Tabitha who was now sat on the sofa and who was also smiling despite her clear distress. Over the next ten minutes they both sat whispering and watching as little by little he emerged and followed the trail of carrots across the dining room floor.
"Well, if he's staying, I'll go run him a bath and then get to work on that cage, he'll still want somewhere familiar to sleep in and he can't go back in there with it like that, poor mite." Jeremy crunched his carrot and watched her go out and then his gaze returned to Winston who was busy fumbling with the remote control. A Blockbusters repeat was on and it would have to do. Jeremy, hearing Bob Holness and the familiar ping of the buzzers, turned around for a better view, but then edged backwards until he had found a comfortable place next to Winston against the base of the sofa, picking at the nest of half-eaten carrots in his hand. 
Winston leaned back and yawned. He could hear the bath filling and the movement of Tabitha above. He should probably get back to the writing at some point, although it was late now and he'd had no lunch. All the sixth formers answering Bob's questions had long hair, even the boys. One had his ears pierced and wore a bracelet. He wondered why The First Committee had left it alone. Perhaps they never watched Challenge or ventured this far into the dark heart of daytime TV; or they might even have a soft spot for good old Bob himself, with his encouraging fatherly tone and God-like saxophone riffs. Or maybe – just maybe, there was a chance they found some comfort in the reliability of the format, the familiar exchanges, the catchy theme tune – something that stirred the memory, an anchor to a fading past in a new world built from ash and straw.
Howard from Chester Tech, resplendent in his freshly ironed Levelling the Land T-shirt, knew his moment had come:
"Can I have a P please Bob?"