Stonehenge 1965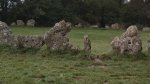 Wed, 20 Oct 2021
Stonehenge 1965
It's only natural to look back the older I get, but I was reminded of my first ever holiday away from home in 1965.  I was ten and hovering around a friend's dad as he loaded the family car in readiness for their annual holiday.
I was I suppose envious, but the real emotion I remember was that his son would be missing for six whole weeks.  His son Stephen was an only child and one of the real playmates I had.  So as I watched the car being loaded I felt I was staring at my happiness being packed away too.  Stephen's dad was a college lecturer and they always went away at the end of the academic year.  Imagine my shock and delight when his dad said "You had better go and get some rest because you are coming with us!"
The hours from 8pm to midnight passed more slowly that at the threshold of an Event Horizon as my mind spun with excitement.  The family always travelled through the night to for a number of reasons.  We were to head to Bude in Cornwall, a journey of nearly three hundred miles.  We were to depart at midnight along A roads as Motorways were only in their infancy in those days.
I sat in the back of the Ford Zephyr 4 with my friend as I watched every yard of a familiar town fade behind us as we journeyed along the deserted streets into the unfamiliar night and noted each and every dimly lit town or village as we drove on.
We stopped around three hours later.  I am not sure of the time, but we were in a dark layby and everyone apart from me settled down to sleep as best they could in the old car. Not me! I was still soaring heavenward with excitement and longed for us to hurry on, but as the early dawn light began to gather I saw some dark shapes on the hill in the distance and fixed my stare at the brooding giants lurking in the gloom.
I have often written about the dark and what light reveals. As a child I was scared of the night and literally cowered beneath the blankets that shielded me from my irrational fear.  However, this was not the same.  I felt safe and like the small child peering from behind the sofa watching Dr Who, I looked at the shapes with gathering curiously and my fertile imagination began to ponder on their existence. 
I did not know it then, but I was looking at Stonehenge and the brooding stones stood in silent meditation praying for the sun to cast light upon the Earth.  I imagined all manner of things and none of them harmed or scared me.  The ancient monument was unaware of the changing child that locked his curious gaze upon them.  It was literally a  rite of passage for me, but as the sun finally transformed the stones from brooding ogre-like forms into – well for me, just stones I was delighted when my friend's dad awoke and the journey carried on.  My impatience to keep moving has never left me.  I have always been happier on the move. I have seen Stonehenge many times since and I am now armed with all the wisdom and knowledge about the ancient monument.  The aura of that July dawn back in 1965 has faded in all but childhood memory.  Only the changes inside of me will not fade, nor the aura that still lingers in my memory still.