Cippy and Bella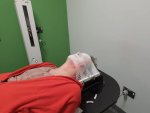 Fri, 12 May 2023
Cippy and Bella go to sleep
My radiation
treatment is over (for the time being). It was hard because it
lasted long and was very uncomfortable, but not painful. I was
prescribed statins starting from yesterday morning which I think
protected me from the headache that would have been present
otherwise. I now have to take more of that for the next 12 days,
going down slowly in dose after 3. That is when I might get symptoms
from the radiation, but they will up the dose again if I need it.
I hadn't given my
most recent cancer discovery a name when I last wrote. I have called
her Cippy because she is on the border of the occipital temporal
lobe. They originally said she was smaller than Bella, but last
night the radiographer told me that she was 1.1 cm and Bella still
at 7. That doesn't sound logical as six weeks ago the scan didn't
show Cippy at all, although going back and looking hard, they could
see that she was just big enough to make out.
The appointment at
the hospital was at 6 – but because of traffic problems we left at
4.30 and arrived at 10 to 6, but had to wait 45 minutes for the last
patient to be finished with her treatment.
I was nervous
especially as the two were scheduled one right after the other,
although I was offered a sedative (which I refused) and a break after
the first one (which I refused.)
I was taken by the
radiologist who had made my mask into a room for a blood sugar test.
She said that they knew my results, which had been 7.5 last time
would be higher because of me taking the steroids. I admitted that
in the half hour we had been sitting waiting I had eaten 5 of the
free biscuits provided, so I expected it would be up. She said if it
was over a certain amount, I would have to take a blood monitor home
with me and test it each day for the next three. But I scored 11.7
and the cut off was 12, so that was lucky.
My mask had been
made 10 days before but under her hands and it was the first one she
had ever made. Her teacher at the time, commented that she had put
the face bit on too high, and that was exactly what we were about to
find out.
I was taken into the
treatment room and asked the same three questions – full name,
address and date of birth. I got two of them right. For some reason I
gave the address that I haven't lived in for the last 11 years.
But I remembered where I lived before they marked me down as senile.
I was put on the
table – only just a body's width – and they put the mask on and
closed down all the hatches on it. It was tight but not too bad.
They started the procedure but after 10 minutes or so had to stop
because they said the mask was not fitting well. So they realigned it
on my face, and after that it wasn't just very tight, but as they
placed it a mm or so to the right – all of my features were slighly
out of alignment. But they screwed it down again like that and I had
to lump it. My nose was crushed on one side, my chin too and that
turned out to be the worse problem. I kept wanting to relax my jaw,
and so I did it while some gammas were heading into me, and I might
not had to have so many retakes if I hadn't. And I probably have a
very radioactive jaw. I think she might have realised my problem
and shouted out, lift your jaw, 5 seconds earlier each time. But she
didn't.
I was totally
confused about the timing of the doses I remember somebody saying
there would be a noise when it was happening. But as we were getting
started I just saw two green lines going down the computer screen and
a big green circle. I wondered if gamma rays were green and I was
watching it go into my head. But then the lights went away, and a
movement happened which was very loud and very scary. It shook the
bed and everything around. I expect it was sort of like being in an
earthquake So I thought, those gamma rays have some kick to them. No
wonder they had to screw me to the bed.
But then the noise
stopped and the bed stopped shaking and what was no doubt the real
gamma rays were sent on their way. I had six of these bed shaking
periods, followed by doses, in the next half hour or so. I had asked
for music, but now wish I had brought in one of my nice Andrew Lloyd
Webber cds. First we had pop – and I half recognised it, then
jazz, then opera, then a song from Momamia, more pop that I didn't
recognise, and more jazz. Then part one was over.
The radiologist came
to give me the good news, and ask if I wanted a break. I did, very
much want a permanent break and no more of this discomfort, but I
said I was OK. So we went ahead.
She changed the
computer programme so the new courses for the rays were set and off
we went. This session was more and more unbearable as time went on.
I can't even say I heard the music or paid much mention to it, only
knowing it wasn't my type of music. There were a few exasperated,
"shut your jaw" moments and then after what seemed like ages, she
came and said, "Almost done."
I was so grateful,
and counted the seconds until that was over, but when the bed shook
again, I knew she had been teasing me, and we did another session
after that. "I couldn't have coped with three sessions," I
said, and asked, "Do you do three sometimes?" and she said they
did but that many people couldn't cope with two as I did, and some
even balked at one. She told me I had been very good and I
apologised for making her redo so many. "It happens a lot," she
said. I was then taken into a waiting area, and my daughter. If only
my mask had been long enough to cover my chin properly.
I had been promised
that they would show me the new cancer when they phoned to tell me
about it, so the radiologist who had made the suggestion, not knowing
that it would delay her leaving on this night, brought her laptop and
showed us my brain but this time not the MRS scan with all the layers
but just the information from the report.
Cippy she said was
the bigger of the cancers – 1.1 cm and the original one, stayed at
7 mm. I don't believe her but didn't want to question her because
the final written report would no doubt be coming from the professor
in chcarge of my case. She said that in 6 months she would have a
telephone consulttion with me and then all would be handed back to
the colon cancer people at my first hospital. They would arrange a
MRI scan for 3 months, and the results could show the levels
dropping, staying the same or going up. So they weren't going to
promise that this procedure had done anything good yet. But even if
they showed it hadn't worked, they couldn't do another such
procedure for six months, because the brain swelling wouldn't have
gone fully down before then. That is what the steroids are for to
reduce the brain swelling.
So, now two days
post treatment I am feeling well, and full of energy. But yesterday I
was pretty droopy and had neck pain and a slight headache all day. I
start reducng the steriods tomorrow and that is when I might feel
more side effects so fingers crossed.
I am very glad it is
over, but again, good for the NHS for providing me with first class
treatment by such very nice people, even if one of them would get
marks off for the mask.