Mr Russ.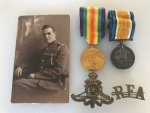 Wed, 21 Nov 2018
1 likes
I don't have any War Medals from relatives. Dad did National Service in 1950, but was too young to serve in WW2. My Granddads were too young for WW1 but did their bit in WW2 but both of them on these shores, one in the Home Guard and one as a Local Air Raid Warden. Great Grandfathers fought in WW1 but I have no idea where their Medals are, probably lost over the decades. The only Memorabilia I have is from an old next door neighbour. Mr Fred Russ.
In 1960 Mum and Dad moved into a small two up two down council house in East London. Our neighbours on either side were Miss Garland, a widow who had lost her husband in WW2 and Mr Russ, a widower whose wife had died due to illness.
My earliest recollection of Mr Russ was from about five onwards.  We had a tiny garden with small fences on either side. So when I was out there playing, Miss Garland would offer over a slice of her glorious homemade cake and Mr Russ would stop tending his Chrysanthemums and take time to talk to me. He was a retired Carpenter and would make me the best bow and arrows a boy could wish for. He became a third Granddad. We all called him Mr Russ, even mum and dad, never Fred, it was almost like a mark of respect for a man who'd survived two world wars. He had no children and his only living relative was a sister who lived in Wickford.
Miss Garland was a bit reserved and liked to keep her privacy.  But Mr Russ was more outgoing, he liked to chat, play cards, gamble, in fact, all the things my dad liked, so although there was a big age difference, they became mates. Every few weeks Mum would invite him to Sunday dinner and once we'd finished and everything was cleared away, we'd all sit down and play cards. At just six years old I could play, Solo, Whist, Rummy, Newmarket and Pontoon and loved every minute of it. After cards, the stories would start. Dad would recall how he and his brothers and sisters would huddle under the kitchen table as the bombs fell around them. Mum would talk about the shelter at the end of their garden and how they would listen to the explosions outside never knowing if they would still have a house left when they came out. Mr Russ's stories were more vague, although he spoke of the First World War he never went into detail, just that he'd fought in France with the Royal Field Artillery. He always said he was one of the lucky ones. He'd survived.
He gave me my first "Real" books. Kidnapped by Robert Louis Stevenson and John Halifax Gentleman by Mrs Craik. Both beautiful leather bound books that I still have today.
By the end of the sixties are houses were to be demolished and new Tower Blocks were being built. Mr Russ moved into one of the new flats and Mum and Dad were given a house on the other side of town. We still saw Mr Russ every week. Sometimes we'd visit him to play cards and sometimes he'd come to us for Sunday lunch just like he'd always done.
In 1972 and at the age of 77, Mr Russ decided the flat was becoming too much for him and asked Mum to look into getting him into an OAP home. Six months later he moved into a home in Dagenham. Dad drove over to get him most Sundays so he could have a big roast and after (as always) the cards would come out.
On one such Sunday while Mum and Dad were in the kitchen washing up, Mr Russ asked me to fetch his coat.
"I have something for you." He said with a grin.
I did as I was told and fetched his coat. From the inside pocket he produced a small box and a leather wallet. He handed both to me.
"Take these up to your bedroom and look at them later. I have no use for them anymore."
Once again I did as Mr Russ asked. But as soon as Dad took him home I couldn't wait to see what he'd given me.
In the wallet were 10 photographs of Mr Russ in WW1. Most in uniform, some with other soldiers and a couple of him looking very grand in a straw boater. In the small box were his medals and cap badges from the RFA.  To a 14-year-old boy these were like treasure. I've kept them safe ever since.
Mr Russ died in 1974 at the age of 79. I think of him often and last week at the 100th Anniversary of the end of WW1, I took them out of their box and once again remembered a true gentleman.
I've tried to find out more about Mr Russ's war years but a lot of information was lost in a fire at the archives some years ago. I only know he was a Gunner between 1914 and 1918. On the back of the photograph I've included are the simple words "To Mother, Love Fred"