A Cheesy Tale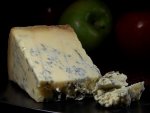 Tue, 31 Jan 2023
2 likes
 It was a perfect day, with brilliant sunshine and a clear blue sky when a  select group of individuals embarked on the Queen Mary which had been, in the past, the holder of the Blue Riband.
They were Monsieur Roquefort, Mister Stilton, Señor Cabrales, Hr Danablue, Signor Gorgonzola and his mother Signora Dolcelatte; all blue blood representatives of the European aristocracy who had convened an urgent meeting to discuss an important issue.
To learn that a global revolution had taken place and the world had been taken over by blue-collar workers who were intent on banning the upper classes, had been a bolt out of the blue.
The six were urged by Monsieur Roquefort, who was reputed to be a big cheese in France, to start a debate right away but their host, Signor Parmigiano - a crusty old character - said,
"Friends, it grates me to see you so unhappy. Let's be mature and reflect before we rush into interminable discussions. I have prepared a spread for us to enjoy."
The steady rocking of the boat caused Señor Cabrales to be blue around the gills and he didn't fancy any food.
Fortified by a glass of Port, Mr. Stilton a true-blue, was now ready to dispense a slice of his wisdom to the assembled company.
"During the war, our country had a great leader who was often down with the blue devils but withstood his depression to fight and defeat the enemy. That's what we should do, stop feeling blue and confront the proletariat!"
"Hear, hear", said Monsieur Roquefort approvingly."
"You can protest until you are blue in the face but the plebs will not listen, they have become the majority", Hr Danableu replied.
"It looks as if we have been caught between the devil and the deep blue sea", said Signor Gorgonzola.
Signora Dolcelatte looked adoringly at her blue-eyed boy marvelling at his perspicacity as if he discovered the meaning of life and decided she would add a conciliatory tone to the proceedings. 
"Perhaps we ought to seek a compromise and instead of being considered aristocracy we could be described as bourgeoisie."
She was met by a chorus of disapproval.
"You are too soft, Madam. Even a bluestocking like you cannot fail to see that it is a lost cause."
It was a compelling argument she could not dismiss. As a student of history, she knew that Karl Marx had realised that the bourgeoisie had replaced aristocracy as the real power holders
and could not be tolerated.
The feeling of gloom returned and Signora Dolcelatte was certain that had she not been present, the men would have expressed their frustration swearing and turning the air blue.
© Luigi Pagano 2023