The Pride of a Nation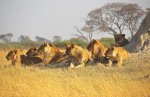 Tue, 02 Aug 2022
2 likes
Wars here and there, 
no grain anywhere,
but do not despair
we have great news
that we can diffuse
and we shall use
to paper the cracks,
so please relax.
we've reached a climax.
We don't want to discuss
Sunak or Ms. Truss.
the lionesses 'R' us;
it says so in the press.
Let's forget the mess
that causes distress,
like lack of social care
or having nowhere
to bed but the open-air,
the increasing magnitude
of the cost of food
that will exclude
the poor from eating.
Nonetheless, competing
and finally beating
a footballing foe,
gives us a glow
and we want all to know.
© Luigi Pagano 2022