Dreams of Solitude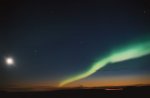 Wed, 27 Apr 2022
3 likes
Audio version at https://soundcloud.com/user-62051685/dreams-of-solitude-mp3
Dreams of Solitude
In dreams I seek solace
from the tyranny of days,
where my mind is free
from its mortal coil.
I sit at a freezing summit
looking down at the world,
snow flurries skimming
across a bleak horizon.
In Nordic nights I dance beneath
translucent, shimmering veils,
auroras guarding Heavens,
Norse Gods hidden from sight.
In a vast expanse of blue,
rocking gently in a boat of wood,
watching as water breaks,
I stare into the eye of a whale.
So many wonders to see,
journeys of imagination,
as the first rays of sunlight
summon a new dawn.
Image free to use at https://en.wikipedia.org/wiki/Aurora#/media/File:Moon_and_Aurora.jpg