The Riot of Spring (Pictures of Pagan Russia 1913)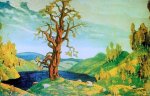 Wed, 07 Apr 2021
This week marks the 50th anniversary of the death of Igor Stravinsky (17th June 1882 – 6th April 1971)
Audio version at Soundcloud https://soundcloud.com/user-62051685/the-riot-of-spring-pictured-of?fbcl...
A once rational, conventional world of music
of ordered harmonies and traditional compositions
were to become usurped by a "madman" composer,
through structural dissonance and strident disharmony.
Theatre des Champs-Elysees held its Parisian breath,
an imperial orchestra began with bulbous bassoon,
a composer-revolutionary watched from the wings
as velvet curtains drew back beckoning dramatic ballet.
Les Augures printaniers
An audience disparate in its contrasting values
formed of fashionable aristocrats and bawdy bohemians,
applied their own intellectual interpretations
of pagan evocation and mystic circles.
A Lithuanian folk dance stomped with minimal grace,
emotions aroused, stirred, raged within onlookers,
a chorus of cat-calls clashed with discordant
intones of a rustic tale of primitive portent.
Twirling, prancing feet danced a Ritual of Abduction,
a phalanx of peasant maidens performed The Khorovod.
Divided, divisive, divisions of The Ritual of Rival Tribes,
blessed is the earth - The Holy Procession of Elders.
Danse sacrale (L'Élue)
Sanctified, glorified, chosen by Fate she is The One.
Magic arabesques conjured rhythm, motion, pirouettes,
a silent soul danced frenetically, spinning, leaping and dying,
our future secured by a sacrifice of the pure and selfless.
This was an orchestral event horizon.
https://www.udiscovermusic.com/classical-features/stravinsky-rite-of-spring/
Image at WikiCommons:
 https://en.wikipedia.org/wiki/The_Rite_of_Spring#/media/File:Roerich_Rit...