No Eagles Allowed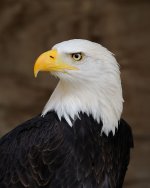 Fri, 07 Aug 2020
1 likes
Darren and Kelly were sitting in a pub near Brighton station, sharing a plate of dim sum.
"Do you know what I hate about Russian dolls?" he said.
"No."
"They're so full of themselves."
Kelly had a dirty laugh on her. Hearing it made him laugh too. 
"How was work?" she asked.
"Dull, but in a good way."
"How so?"
"I'm left alone. There's a vacancy for working on the phones that someone told me I should go for but I'm happy filing."
"You should go for it."
"Ambition is what makes people twats."
Kelly sipped her G&T. "You think you're being smart and edgy but you're not."
"Tell me why I'm wrong then?"
She changed the subject. "Bobby Gillespie came into the music shop today,"
"Who's he?"
"Only the lead singer of Primal Scream."
"Oh, them."
"He's lovely."
"Everyone banged on about Screamadelica. It was a steaming pile of shit."
"Because the only good bands are The Jam, The Stooges and the awful Doors."
"The Doors are genius."
"Anyways, that was the highlight of my day. He's so down to earth. They've got a new album coming out, which you won't be interested in because you've decided it's an everything-is-rubbish kind of day." She finished her glass.
"Another?" he said.
"Sure."
He went to the bar and ordered a pint and two double G&Ts. There had been an interesting development at work. It wasn't exactly the sort of story he could share with Kelly. One of the housing officers at the Council, Helen, told him how she had split up with her boyfriend. Over the last month, Helen and Darren had been having long chats. She was totally his type – short, curvy, blonde hair with blue eyes. He assumed he didn't have a look-in due to how she banged on about her boyfriend. Now there was suddenly a window of opportunity. To his amazement, she had suggested they go for a drink to discuss how to position himself for a job on the phones.
"Yeah, let's do that," he said.
"I'd like that very much," she replied, giving him that special look. It was game on. He eyed her up as she toodled off, replacing his earphones and pushing his trolley of folders to the 'Gs'. She was posher than any girl he had ever known. Had been to a public school. A Dulwich College twat but for girls. Wearing twatty uniforms and playing posh sports on posh, perfectly mowed pitches. He could feel a stiffy coming on at the bar, thinking about what he would do to all that poshness. For fuck's sake. It was like being a teenager again. He remembered that as a 13-year old, the slightest brush of a woman against him on a tube or bus would instantly trigger a hard-on. It was mental how hot his cock would get back then. Like an abscess about to explode.
"That'll be twelve pounds fifty."
"How much?"
The barman repeated himself.
"Fucking hell."
"You're in here nearly every night, ordering the same rounds."
"But still, you gotta admit, it's fucking steep."
The barman held out the card machine. Darren paid. He was about to comment on the bloke's shit tattoos when they both looked toward the door. There was the sound of raised voices outside. A woman was shouting, "Get down, get down."
"Shut the door," yelled the barman.
A man pushed one door shut and was about to close and bolt the second when someone dived screaming headfirst into the pub, followed by a gigantic, screeching bird.
"Not another fucking eagle – get down," the barman hollered.
There was the sound of smashed glass and wooden tables and chairs being knocked over as everyone dropped to the floor. The pub had high ceilings and the bird turned in tight, slow circles. Darren lay on the floor with a cheek pressed on the cold tiles. He sneaked glances at the magnificent creature. The elegance of its neck, head and beak and the immense power in its torso and wings. Punters shrieked and whimpered. At any attempt to escape into the toilets or out the front door, the eagle swooped menacingly and emitted a shrill, piercing cry. In its predatory presence, they were as puny and feeble as field mice.
That's when he realised who it was – the Colombian. The boy in my house share had transformed, as I fucking predicted from the get-go, into an eagle. It was glorious. Imagine being a penniless nobody. On the run from South American drug barons. Trying to learn English as a foreign language. Finding yourself dumped by a girl with webbed feet called Jenny. Cast adrift from your human form. Mutated into a horrific, stinking beast of the hinterland. And then this was your reward, my son. Your redemption.
"You're fucking gorgeous."
"Shut up you cunt."
He scanned the room to see who said it.
The eagle spotted him and swooped down onto the bar. It was definitely the Colombian. He pulled himself up and laughed, "You see, it wasn't so bad after all, was it?"
They looked into one another's eyes. He's come to thank me for those moments we shared together in his cage of a room. He appreciated my kindness. It was actually nice to be kind once in a while. To do something for the benefit of another, rather than simply obsessing about myself, my shortcomings, my this and that, my Council tip of a brain, and fuck knows what else.
"You should be in the mountains, up where you belong," said Darren, realising he sounded like a dreadful song he couldn't quite put a name to.
The eagle's head disconnected from its body.
"What the…"
As Darren and the eagle stared at each other, a chef had crept on all fours behind the bar and then rose up and swung a meat cleaver, neatly beheading the bird. A fountain of blood spurted out. There were cheers and applause as the punters rose to their feet. The chef held the bird's head up as a trophy.
"Drinks on the house," shouted the barman.
More cheers and applause. People were hugging and embracing. It was like they feared the eagle had become a man eater of the Jurassic age, primed to kill.
Kelly walked up to Darren and tried to take his arm. "Come on, let's get out of here," she said.
Darren didn't move.
"It's horrible," she said. "I can't believe it either. This is supposed to be Brighton. I don't know what's wrong with people."
She was a strict vegan. She had been ever since listening to her mum's copy of The Smiths' album, Meat is Murder.
"Nice one for distracting the bird," the chef said to Darren, raising a celebratory pint of IPA. "I'll make you an eagle burger if you like."
Darren pushed Kelly away and launched himself over the bar. "Take that you fucking wanker," he snarled, punching the chef onto the floor and then kneeling on him. Darren punched the chef's face over and over. Feeling the nose break. Hearing the squelch of fist against eyeball.
It took four men to yank him off.
Kelly dragged him outside. Pushing him.
"Let's get out of here," she said.
They headed back to her flat off Seven Dials.