The Riots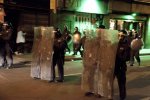 Sat, 16 Feb 2019
The news showed footage of shop windows being smashed. Cars tipped on their sides and set alight. Rioters lobbed stones and bottles at the police. A petrol bomb arced brightly through the air and exploded in a whoosh of fire.
"Look at them animals," yelled my nan.
"Animals," agreed my grandad.
We ate our dinner from trays on our laps. The lounge was too small to extend the dining table unless it was a special occasion. The table was pushed tight against a wall, both side-flaps down. Next to it, there was one wooden chair, piled with Sunday newspapers, magazines and a dented biscuit tin, kept from a Christmas long ago, that was now filled with custard creams. The other three chairs of the set were in the spare room, which had temporarily become my bedroom.
I forked buttery mash and stewed greens, soaked in gravy, into my mouth. We watched the TV, propped on its thin metal stand, in the corner of the room. My grandparents kept hollering at the screen. They loved to shout at the news. They were incensed at the sight of the police with truncheons and riot shields raised, in formation like roman legionnaires, having to march forward under a barrage of bottles and bricks.  
"Oh no," said my nan, "not Bon Marche… It's on fire… Why are the police letting them do that?"
It was one of her favourite department stores. People were running from the large, smashed-in display windows, carrying their loot. The shops and streets were well known to us. We knew exactly where the fires were burning. I passed through the main highstreet on the bus to and from school every day.
"They all want locking up," said my grandad.
"Evil perishers, the lot of them," my nan said.
My grandparents goaded one another on, snarling racist comments. It's not worth repeating what they said. I cut up a tough, overcooked piece of pork and dipped it into the sharp-tasting, home-made apple sauce, wondering if I would get a day off school.
***
I lay in the single bed in the spare room. My mouth was dry and yet I felt too tired to pick up the glass of juice on the bedside cabinet. It was the same bed my uncle slept in before he topped himself. In the distance, beyond the estate and near the derelict power station, I heard the sound of metal train wheels rolling on metal tracks.
Through the walls, my nan told my grandad off for coughing. None of us knew it was lung cancer. In the flat above, a chain was yanked and there was the noise of water running through pipes. I thought about my parents. How mum threw a bottle at dad after he came home late. The Cinzano bottle hit the wall and shattered into smithereens. He shied a pepper shaker at her head.
Mum screaming. Dad swearing. Screaming and swearing. They could not be in the same space for ten minutes without kicking off. I could deal with the verbal abuse and the tears. It was when they smashed things up and hit each other that I had to leave.
My grandparents had their faults. I knew that. But they looked after me and I always felt safe at their place. Wanted.  
***
By morning, the riots had stopped and school was definitely open. I saw my mate Ricky at the bus stop.
"Alright," I said.
"Alright," he replied. "The bus has to go another route."
"'Cos of the riots?"
"Yeah – rerouted."
"That's annoying."
"I know."
It was November and the cold of winter was beginning to bite. "Did you watch them?" I asked.
"The riots?"
"Yeah."
"My brother went and got us a TV from Rumbelows."
"Really?"
"And a hair-dryer for my mum. She's well happy."
"That's cool."
"I know. We sat watching the riots on this giant TV my brother had just stolen from the riots. It was mental."
I pulled the zip of my coat up to my throat, wishing I hadn't lost my gloves from last winter.  
"This TV is massive… Like, cinema-massive, with a remote control."
It was freezing. You could see our breath clouding as we talked.
"And," he said, breaking into a wide smile, "I get to keep our old living-room TV in my bedroom. So now I can play games on a proper screen. You have to come over."
The bus arrived. "Yeah, I will," I said, filing on. I was disappointed to see it was standing room only. I showed my pass to the conductor.
The bus was full of kids from other schools as well as my own. The journeys were generally noisy, not to mention dangerous. It wasn't unusual for there to be a fight, especially coming back in the afternoon. Fights could start from nothing. That was how Ricky ended up dying. He made random eye contact with some idiot from another school and the bullying started.
"What you looking at?"
"Don't turn away, I said: 'What you looking at?'"
Like me, he couldn't fight, or had no desire to, so he tried to escape. I was told he scrambled and pushed his way off the bus. The idiot bully and his friends – who I appreciate were only teenagers themselves and had to live with this – chased after Ricky. Terrified, he ran across the main road, straight into a black cab.  
But on the day I'm talking about, there was an armistice. All the kids were buzzing with the excitement of the riots, sharing stories about what had gone on.
***
Ms Monk, our form tutor and a proper leftie, misread the mood of the class. When she finally quietened us down and had taken the register, she put on a sad voice and said, "We should probably take a moment to reflect on the terrible events of last night. How are we all feeling today?"
There was a pause. 
"Are you upset about the violence that occurred? It's okay to talk about it and share."
We realised she didn't understand. She wasn't born round here. She was not like us. It was awkward, like when someone talks to you with bits of food in their teeth.
Steven, who sat at the back of the class and who only acted hard around people he could bully, said, "The police got totally whipped."
Everyone burst out laughing. Tania and Michelle laughed the loudest. Michelle slapped her desk.
Steven added, "I heard Madelene's dad even stole a washing machine for her to wash her rank clothes."
"Shut-up," yelled Madelene.
"Don't tell me to shut up, you skank."
"Who you calling a skank?"
Ms Monk stood up. "Enough, be quiet."
The teasing, accusations and laughter went on. Ms Monk yelled in her deepest voice, "I said: Enough."
The room was silent. Ms Monk realised that we were not going to have a heart to heart about the tragedy of inner-city riots. It was not how she had imagined the conversation panning out during her commute into work, eating flaked almonds on the train.
We were dismissed for our next class, which I think was Business Studies. We walked across the main square of the school to the block on the far side. I listened to the stories from the kids about the riots, the items stolen, windows smashed and the news reporters and cameras. I think the media coverage was what made everyone so happy. We were on national news. Noticed.
***
The riots resumed that evening and the fighting was vicious. There was nothing much left to steal. The shops were either burnt out or empty. It was rage against the police and what they represented, and the police wanted payback too. Lots of people were hurt, on both sides.
I watched the figures on the screen with my outraged grandparents, trays on our laps. Outside, I heard sirens heading to the locations shown in front of us. I had an odd sense of reality bent out of shape. What I was seeing on TV was real, but it wasn't quite linking up with my own experience of events and what I was hearing at school. I couldn't put my finger on it.
***
Eating pudding, my nan said to me, "I talked to mum on the phone. She wants you back home at the weekend."
"Oh."
My grandad, who had finished his pudding, which was a special kind as he had diabetes, said, "It's where you should be. They miss you." He reached for his tobacco tin and started rolling a cigarette.
"Your mum tells me she's fixed things with your dad," my nan added.
I glanced at her and saw that she didn't believe anything was remotely fixed either. Sickness spread in my stomach. "When do they want me back?"
"Friday. Mum told me she'll get you fish and chips."
"Tomorrow? Could I go Saturday?"
"She'd have you back tonight if she could."
I placed the unfinished bowl of apple crumble and custard on top of the biscuit tin on the chair. My grandparents continued watching television, which they would do until it was ten-thirty.  
I headed to the spare room that I'd almost allowed myself to imagine was my own. Normally, my nan would have called me back to put my dessert bowl in the kitchen sink, but she understood how I was feeling and let it go.  
Home was a place of pitched battles.
I lay in darkness.
I wondered about the thoughts that had gone through my uncle's head before he decided to swallow the pills. Would he lie in bed with the lights off, hearing the TV in the lounge and voices in other rooms, thinking that he didn't have a choice? Listening to the sound of a train in the dead of night. These mad, intense feelings swirling about inside of him. Nothing adding up. Alone.
My own life was going to change. Not end. With a sense of conviction that was almost frightening, I decided I was going to be different to everybody else.