Tower Block .14 (Part II)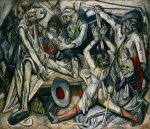 Fri, 29 Sep 2023
1 likes
They're having the best time. Robert has my arm squeezed tight. Don't think about running off, he says.
I'm tryin so hard not to blub. Tracey keeps holdin Flapjack close to me, saying stuff like, You ain't getting her back, you know that right? I'm keeping her. It's the tax you have to pay for being such a perv.
Perv tax, says Junior, takin out a plastic thing to scan open the heavy front door to enter the tower block. I never realised he lived here. We stand an wait for a lift. I keep hopin we see a policeman or someone who can save me.
The lift doors open an we step inside.
Junior presses the button.
The whole lift has been tagged. It's a spaghetti of reds, yellows, greens, silvers an blues.
Tracey rests Flapjack on her shoulder. She looks at Robert grippin me an says to him, You best wash your hands afterwards.
I know, he says an then to me he goes, You know what?
I say, What?
You fucking stink.
Tracey does her fake dirty laugh. It's so loud. Seriously, nothing is that funny.
Junior says, Why don't you wash?
Don't you have soap? asks Robert.
Haven't you seen his mum? says Tracey.
Yeah, says Robert, she's a proper nasty skank.
Junior gets close to me an goes, Say it.
Say what?
Don't what me. Who you chatting to?
Tracy goes, You best say it.
Robert squeezes my arm tighter an goes, Say: my mum's a skank.
Fuck off, I shout at them.
Say it, says Robert. 
So I go, Your mum's a skank.
Junior an Tracey give each other these oh-my-gosh looks an Robert slaps my face. Who do you think you're fucking talking do? You think we're playing? You think this is games?
My cheek goes Pot Noodle hot.
He slaps me again.
Tracey does her dramaticals, crackin up.  
Junior wants to hit me too cept the lift stops an the doors slide open.
They drag me out.
Get the key, says Tracey.
Junior puts his hands in my pockets, searchin an saying, I'm gunna catch Aids putting my hands in here.
I really want to cry. I don't wanna be here. I wish I was at home in my room. That's where I want to be. Lying on my bed, back when Mike would be in the other bed an I'd hear him tell his funny stories, makin me laugh so much that mum had to bang on the wall at night, tellin us to be quiet.
The heavy door squeaks open. Robert drags me, tellin me to move, but I don't want to go up the stairs an through the other door.
You're gunna get it, says Junior, rubbing his thief hands.
Robert keeps slappin my head like I'm a fucken bongo. I can see how angry he is for cussing his mum, who I now remember is dead or some kind of vegetable in a home after overdosin or something. We step onto the roof an the sunlight makes us blink.
Junior unzips my rucksack an empties everything. The bowl for Flapjack smashes. The bottle of water an can of Dr Pepper rolls along the concrete floor. He rummages in the bag an sees the fags an lighter an offers them to Robert an Tracey. They're not bothered so he lights one for himself an pockets the pack an lighter cos that's the kind of budget thief he is an always will be.
Robert shoves me down an boots me in the stomach. I yell out an have to try to catch my breath. It fucken hurts an I can feel the tears coming, runnin down my face cos I know no one is comin to rescue me up here and my belly hurts an I want Flapjack.
Tracey is saying, That's what you get for perving.
Junior cracks open my Dr Pepper and starts drinking.
Those two seems to think this is jokes. Robert doesn't. He's mega-serious. It's the mum cuss that's changed him. Me an my mouth. I never know when to keep it shut. Mr Leonard says I'm a foul-mouthed youth an I reckon he ain't wrong either. I've made Robert mad an I'm fucken scared. Some people, right, they go crazy on booze an drugs. Others don't need to take nothin. Psycho is their normal.
He's crying, says Tracey.
Fucking baby, goes Junior, doing a Dr Pepper burp.
Nah nah, says Robert, no one's disrespecting me those ways. Fuck this. He pulls me up an then lifts me, squeezin me so tight I can't move an he carries me to the edge of the tower block roof. I can feel myself getting closer. I start to freak. He's too strong. I wriggle, wormin to free myself but his arms wedge me in an then he plops me on the side, grabbin my legs, an he pushes me backwards so I'm dangling over. I feel the distance below. I see how the veins twitch in Robert's neck an how red his face is goin. I'm heavier than he thought. He's strainin. Fighting gravity. Teeth showin. Any second, I'm gunna slip from his hands. My head goes dizzy from upside-down-seeing the flatness of the tower block, window after window, laddering to the ground, where I'm gunna burst open like fried tomatoes.
Say it, goes Robert.
There are bubbles an strings of spit on his mouth, where he's trying to keep his grip.
Tracey an Junior are chantin, Say it. Say it. Say it.
Say it.
Fucking say it.
I'm a witch they want to burn.
I'm the egg boy, ready to crack.
The blood rushes to my head.
The key to where I live falls outta my pocket. I watch it tumble downwards, spinning an turnin, down, down, down…
The windows explode. Glass shatters. It's a deafenin sound like when a chandelier falls in a movie. I wait a second an then the cryin starts. The tower block's tears stream out. Water flowin an floodin the streets. It's the sadness of all the tenants in the flats, of my dad havin to run away, of mum drinkin, of Mike beatin up the stranger who pushed in at a bus stop, of the muggins, the rapes, the stabbins, the druggies an alikies, the borin schools, the no jobs, the do nothing, no nothing days, the old ladies who die all alone cos they don't have any fags an gin to make them feel less lonely at night. It's the estate fucken hatin bein an estate. It's the signs for No Ball Games an No Dogs an Keep off the Grass. It's me, cos I hate it here. It's the people. It's what I am an what I ain't an the not knowin what I'll ever be. I'm blubbin too, cept the tears are going backwards, reversing up my temples an forehead an into my hair, an I hear myself shoutin out, My mum's a skank. My mum's a skank. My mum's a skank. My mum's a skank. My mum's a skank.
My mum's a …
A fucking dirty skank, says Robert, heavin me back up.
I feel the gravity go soft as soon as half my body is back on the roof. Robert lets go an I pull the rest of me to safety.
He wants to catch his breath. He coughs an gobs.
Give me a fag, he says to Junior.
I'm on my knees, retchin cos I'm so scared. I use my t-shirt to wipe the tears.
Tracey an Junior are propa laughin.
She puts Flapjack down an takes the pack of fags an lighter from Junior. That's the funniest thing I ever saw, she says to Robert.
Flapjack meows.
I look at her pink mouth an splashes of white. My kitten is so frightened up here. She doesn't understand how this was once my safe place, where I could come an hide out from all the evils, where I could lie on my back, staring at the fluffy clouds, watchin the crucifix airplanes, imagining being here with dad, talkin about the good times an the places we'd travel to.
At least they haven't spotted the camp I've made with my emergency fags an Dr Peppers.
Not that they're goin to give the keys back for me to come up here.  
I reach for Flapjack, tryin to take her.
Nah nah, says Robert.
He stamps on my hand with his Nikes. What do you think you're doing? he says, squishing my fingers an makin me cry out.
Stop it, I yell.
You want your cat?
Yes.
He steps off my hand an picks up Flapjack. See this? he says. Do you see this?
No, I shout, don't touch her.
He walks to the side of the tower block, holdin her up for me to see.
All the laughter an jokes have stopped.
Tracey yells. Robert, no.
Junior's expression is all serious. Bob … Bruv …
I watch as he holds Flapjack by the scruff of her neck over the side. She wriggles an boxes her paws. I scream at him to let me have her back. He starts to speak an I watch her slip from his fingers an disappear.
Oh fuck, he says, peering down at her fallin. Shit, he says.
Tracey is shrieking at him, Why'd you do that? You sick wanker.
Junior's mouth is wide open. 
It was a fucking accident, says Robert. Don't make me feel bad.
I wanna jump over an catch her. I don't move, though. I sort of hear myself makin these sounds. Yellin.
Get him out of here. I can't stand the fucking sight of him, says Robert to Junior.
Tracey is crying too.
Robert says, I didn't fucking mean for it to happen. It was an accident.
Junior drags me across the roof an down the stairs, shovin me through the security door. I drop to my knees by the lift, blubbin an shoutin stuff.
Sorry, bruv, he says. That was harsh. He presses the button for the lift. You best go back home, you know.
He gives me my fags an lighter. He goes to speak an then doesn't. I watch him close an lock the heavy prison door, goin back onto the roof.
My roof.
***
Red mince.
Gooeyness.
A paw.
Some tail.
A splash of white fur.
Oh god, is that a cat? says an Old Lady.
It's the ghost of the woman who gave me a nifty.
That's terrible, she says an then she touches my shoulder, makin me flinch as she goes, Don't look, son. It'll give you nightmares.
Other ghosts float over, wearin Addidas hoodies.
I want to scoop up the Flapjack graffiti. Bury her piece by piece an say my goodbye, kitten prayers.
The ghosts won't let me.
No, no, don't do that, they say.
I walk off, wantin to blub. Cept I can't.
Today I realised a truth – sometimes the hurt inside goes so deep that there aren't any tears left to cry.