Corn rigs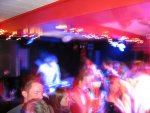 Sat, 06 Dec 2014
The chemical smell of dry ice followed them down the linoleum corridor from the school Christmas disco.  Her hand was hot in his.
Dirty Annie. She was older and Darren was afraid.  
The cupboard smelled of disinfectant; varnish on the door coming away like corn husk against the arm of his best shirt.
It had been her friends, wrapped in tinsel, screeching with laughter that pushed them together as he had shuffled on the parquet floor of the hall. She smelled of sherbet and cigarettes and drink. The other boys looked at him with something like envy.
She picked silly string from his hair.  
"You remind me of my ex.  I love him so much, " she said, slurring. The picture on her phone was of a man, thick stubbled, grown up. Darren didn't even shave.  "So, are you gonna kiss us or what?" Her mouth tasted wet and sour.
"He used to touch me here." Darren's heart hammered in his chest. "Go on," she said, "just don't cum inside me."
It didn't cross his mind to listen to her.  "You're gasping for this you dirty slut," he said and didn't know why.
When she started crying Darren wasn't afraid anymore.