The Loneliness of a Cuckoo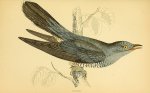 Thu, 17 Aug 2023
1 likes
We say, poor meadow pipits,
look at them glut the great gape
of a bird three times their size,
and our sympathies hurry 
to the mousy warblers,
not to any villain of the reed-bed.
A cuckoo chick who has bundled out
all competition, and there gorged
and grown feathered and fat,
fuelled by urge and instinct.
But I do not envy the gowk --
such pretence has the particular bite 
of solitude, and then to earn its reputation
for wickedness and deception;
harbinger of light, no, more bringer
of darkness when a fledgling
has never seen the face of its mother.
The lonely five thousand miles to winter,
a lost song when it has learnt the language
of sparrowhawk and redstart or dunnock,
how will they recognise one another, I wonder,
but for the journey
of being both the ghost and the haunted 
that makes a cuckoo, a cuckoo.
*Gowk - cuckoo from gaukr in Old Norse and ġēac in Old English, I think gowk is still used in Scotland.
Image is from here: https://commons.wikimedia.org/wiki/File:A_history_of_British_birds._By_t...