The Falcon's Regret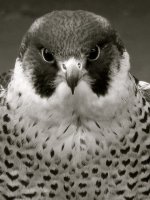 Thu, 22 Oct 2020
1 likes
As a peregrine,
I have but one regret:
I should have listened more in school
And learnt a trade
Or sprouted affinities
In maths or music technology;
Instead, I played the fool.
I could have worked in a bank,
Slammed my clenched wing
On tables in white rooms,
Said extremely important things
To people who smile and hate me,
Or flown to Paris
And opened a touristy knick-knack shop
For wankers in caps.
Instead, I nestle on the BT building
And vomit up entrails
To sustain my screaming brood.