Les Rowse, Philippe and I Part 2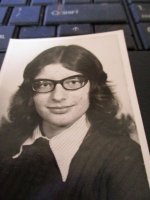 Tue, 06 Feb 2018
1 likes
'We've given you all the advantages, all the advantages'
That's not Les' old man, it's mine – his favourite war cry when the old girl cranked up his handle.
Makes me sound like an expensive house, like the one I grew up in, detached and with neo-Tudor beams, good queen Bess comes to Wembley Park.
The world of Janet and John, 'See Rachel see. See Rachel play cricket in the garden with Christopher next door, see Diana the other side next door play with her dog Scamp.'
See houses Rachel. See them from the bus. Think back to a time where your whole world was detached houses and semis in North London. Remember when you lived in London and everywhere else was 'out in the country' or 'the seaside' or 'abroad'. You did not know the word 'suburb', you did not know where London started and where it ended.
Some people are like that for life.
And yes Barn Hill was safe and safety matters. It was also as staid and stodgy as five day old Victoria Sponge.
'She called me a bourgeois!' Dad said. I was seventeen. He did not deserve it. He survived Auschwitz. Dad was let into Scotland when he was 20 to work 'doon pit' on the 'volunteer migrant scheme', (did he get paid or was his bed and food provided  for free in the Cowdenbeath miners hostel  and was he simply given a bit of pocket money as an add-on?). By now he had used his reparation money to buy our house and to qualify as a hospital physiotherapist. He worked at Manor House Hospital. It started pre-NHS and is funded by trade unions.
Hardly a fat capitalist cat.
But being brought up middle class meant we only talked about money when we had a big row.
----------------------------------------------------
 I left home and dropped out of school one bright May morning, taking my suitcase and my post office savings book. School was South Hampstead High School for Girls, part of the Girls Public Day School Trust.
I had 'won' an assisted place by passing something like the 11 plus. The standard mobility angst, Rachel  no-mates for almost a year, I was the only girl in my primary class to get accepted and I didn't gel with the others in my form. Not because of class barriers but because I was shy  I eventually became playground pals with two girls in the other form.
Mum had taken me to Dickins and Jones to buy my uniform. The 'assistance' didn't cover uniforms, rail fares or the remaining third of the fees. £66 a term, they let me know when I hopped it. Mum bought me a desk. Was it from Dickins and Jones or John Lewis? It cost £25 in 1967, It was pale pine and had a white formica top. It was from a catalogue and the assistant sketched it for me on a pad. It is still in 'my old bedroom' in Wembley Park.
A grown adult sketching my new furniture! I felt like royalty.
Mum went skipping down the street, legs and Marks and Spencer skirt airborne off the pavement, to tell her rivals Mrs Ireland and Mrs Mills that Rachel had won a place somewhere too. I felt she looked silly.
And now I was 17. School was better in 6th form. We did not wear uniforms and I could drop physics, chemistry, latin, and maths. I wished later on I had stuck with maths as I love statistics, the facts that tell stories. Ah well…
'The look' for girls who liked it and could afford it was Laura Ashley prints which made them look like suggestive milkmaids. Levis that you had to lie flat to squeeze into topped by a retro fur coat from Kensington Market were good. My showpiece was my knee high scarlet platform boots from aforesaid wannabe cool hippie emporium.
The talk in our common room was frank and in a posh voice 'Fabia's mother called her a whore.'
And none of this was enough. The promise of university in a year and a half brought forth teenage cynicism  - 'and then we become graduates and then post-graduates'. The latter said to my friend Helen as if it was all one big prison sentence.
17 is a restless age. I don't think schools and teachers know what to do with us post-16. Certainly not those at South Hampstead. Apart from the sexy art teacher Mrs Weir who painted pictures of girls on motorbikes, but I was useless at art, dropped it at 14 and the scary French teacher Mademoiselle Muller, five foot nothing, her face a red angry flush from cheek to collarbone, we called her 'mad moo', our teachers were a dinosaur parade. Bony, lumbering, marking the days off on their calendars till retirement.
 They hated us, spoilt arrogant madams who took our youth, our health, our future for granted. We flaunted our sex on a plate, the world and its wife could spit or swallow.
------------------------------------------------------------------------------------------
for  the domestic incident that sparked my exit from home, what I did next and how Philippe  saved the day when I was eighteen you need to sit tight till the final section. (Spoiler, it's eventful and sordid in an everyday way.) I also link the protagonists (promise!)