The Value of the Gift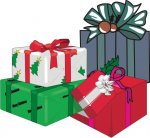 Mon, 14 Jan 2019
1 likes
To give a present less in value
than others give – in terms of money –
can be a Christmas fear for some
– and debt results if they succumb.
And sometimes estimates of what
the others paid for gifts is not
reliable, for special offers
compete to fill the retail coffers.
And anyway what pleases most
is not the gift that much cash cost,
but that which shows a thoughtfulness,
a glimpse of love, real interest.
The courage to give what cost less,
and not just flaunting to impress,
may take the time a craft to make,
or run and errand, bake a cake …
…suchlike gives 'added value', lifts
the 'less' becoming 'more', these gifts
no price commercial have, prized treasure,
providing much refreshing pleasure.
[IP: less is more]