Scout's Honour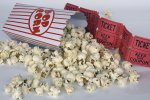 Sat, 29 Feb 2020
1 likes
It's great in de summer as we can spend all dese long hours in Easy Weir's looking at de videos – dat's Dixon, McGurk, and meself. 
Easy's dere behind de counter as usual wit a motorbike magazine open and he's talking to some invisible gobshite behind de screen – we know right well he's looking at de dirty videos, we just know he is.
--Anny new ninja videos, Easy?
--Ah here.  Dere's a rake of dem.  Sure lookit.
He produces a long list from under de desk.  It's some kind of order – de kind dey have in shops.  He runs his finger down de page. 
Ninja
Ninja
Ninja
Ninja
Academy
            Ninja
Ninja
Ninja. 
--Oh, and here's anudder.  Ninja.  Dere's loads, he says.  And over dere on de shelf beside Delta Force you'll see de best one yet...
So we go to Delta Force.  And sure enough beside it dere's a ninja video.  Ninja in the SS Deathcamp.  Dixon grabs hold of it first and has a look at de back.  Dixon's eyes are normally narrow cause he squints a lot but now wit Ninja in the SS Deathcamp dey've filled out like typical eyeballs and ye can see de whiteness.
--Dere's diddies on de back, he says.
            Me and McGurk go round to have a look.  Dere are diddies alright.  Big ones.  On an Asian woman.  Never saw an Asian woman wit diddies as big as dat.
Easy laughs. 
Suddenly de man behind de screen appears.  He slips out and says: Right, Easy, I'll take dese ones, handing over two video cases we can't see clearly – he is obviously used to keeping dese activities under de radar – yet we can see dat one is very yellow, one is very blue.  And ye can see sure as de day fleshy bits all over de fronts and backs. 
--Lookit de head on him!  Dat's me saying dat, whispering it actually.  Cause he has a big long jaw coming out of his face like one of dose pelicans.  I know him – oweny to see, not by de name he goes by.  I mean, I've seen him around de town.  Back in de day, I wus play-wrestling wit Colum MacArdle on de green outside de school and he walked past us and he said, directly, to me, Stop touchin his balls, ye wee quee-uhh!  He gave me a scare saying dat cause ye don't expect adults to talk in such a way to younger ones.  And he wusn't full or annyting.  You might expect it if he'd had a few, but he wus dry as day-old dogshite.    
--Ah, he says to me.  You're de one dat stole de mass card. 
I did rob a mass card, yes.  It wus de first ting I ever robbed.  I did it to keep up wit de boys because dey're always talking about der robbing.  So when we were passing de post office one day, I ran in, grabbed a mass card, and ran out, just to show dem I had robbing in me.  Dere wus no other reason fur doing it.  It wus a mass card.  Dere wus no funeral.  Oweny mine when me mudder found out.  Which she did because it's a small town fur sins. 
--Why de hell did ye rob a mass card, ye stupid wee bastid? de man says.
De boys split der holes laughing when he says dat.  Dere's nutting I can do or say to defend meself. 
Den de oul cunt notices de fleshy bits on Ninja in the SS Deathcamp.
--Let me see dat!
He grabs de cover out of Dixon's hands and gives it a good seeing over. 
--Dis isn't fur you wee bastids, he says.  Here, Easy, dese wee bastids are up to no good.  Dey're lookin at diddies.
Easy laughs: Ah, howl yer horses.  Sure dey're oweny edifyin demselves.
--Edifyin? I'll fuckin edify dem.  I'll take dis one too, hay.
He tosses Ninja in the SS Deathcamp at Easy Weir who says: Ninjas??  Are ye sure?  It might be a bit sophisticated fur your tastes.
--Gway and fuck!  Wrap dem up!
--Right ye are.  Easy takes out de special brown paper he keeps fur all his favourite perverts.
When de dirty oul cunt leaves, we head down to de back room, where Easy keeps de horrors and de family fillums.  Some of de scariest covers are in de family section, ye know. 
McGurk says to me, You should've robbed de cover before dat oul bastid left widdit.
--Why rob de cover?  Whut use is it?
--I don't know.  But did ye see de set on yer one?  I'd find some use fur dat.  Lookit!  Freddy tree!  Have ye seen dat?
--I've seen dem all, says Dixon.  Freddy one, two, tree, four, five, six...
--Dey've oweny made tree so far, ye lie-uh!
--Bog off, Shpeelborg
As we're leaving de shop, Easy calls out to us: Not renting today lads?
--Not today, Easy, says McGurk back to him.
--Ah why?
--No funds.  We'll be bob-a-jobbin next week though.  So ye can expect to see us.  And we'll get as many ninjas in as we can.
--Scout's honour?
--Scout's honour.
As we walk up Church Street, a man sticks his head out de door of McCormick's Butchers----and he's all flustered.  Den he steps out on de street, wit de butcher's gown on him, all wine-stained like yer mudder's sofa.  He has in his hand a brown paper parcel, much like de one Easy gave de man in de video shop.  He looks up and down de street, sweating more dan just a little bit.  It must be warm wit dat apron on.  As we get closer, he asks us, Have ye seen Johnny Toner?
--Eh, no, says McGurk.
--He wus just in here, says de butcher.  He wus buyin sausages and he left dis here package behind.  We use brown paper too.  He must have got mixed up.
--I can bring it to him, Mister, says Dixon.  He lives beside me.
--Really?  Oh....wait.  No, hold on, hay.  You're not havin me on, wee man, are ye?
--Not at all.  I swear on me granny.
--Alright, well, where does he live?
--Johnny?  Right near me.  De Avenue.
--Uh-huh.  Right.  Well.  Okay.  Take it.  But you make sure not to open dat.  It's not yours.  He better get it in de same shape it's in now.
--Scout's honour, Mister.
--Good man yerself.
--How did you know where he lives? I ask Dixon after de butcher goes back inside.
--I didn't.  I tried a guess at it.  Sure dere's loads of avenues in town.  Could be St. Nicholas's.  Legion  Avenue. De Avenue Road.  He mustn't a known himself as he fell fur it. 
--Fuckin tool, says McGurk.
--Yep, I add.
--Annyway, whose house is free?
*
We get to McGurk's place, close de curtains, and tear open Johnny Toner's package.  It's like opening de ark of de covenant in Indiana Jones.  De diddies just come flying out, lighting up de room, and de power of God is upon us, melting our faces clean off. 
When de first blue starts, we're paralysed from de toes up.  Ye can see de whiteness in all our eyeballs now. 
Never seen de like of it before----
But just as yer man is about to mount yer one like he's about to race de Grand National, dere's a noise at de front of de house.
McGurk shouts, It's me Mam.
Dixon: Ye dickhead ye.  I thought ye said---
We quickly move to change de video.  I'm de one who does it.  I'm a master of ejecting videotapes. I trow in Ninja in the SS Deathcamp instead.
--Ah, well, boys, what a nice surprise, says Mrs. McGurk.
--Hiya Mam, says McGurk.
--Would yiz like something to eat, boys?
--Some toast would be lovely, Mam.
--I'll bring some in surely.
And she does.  She brings de toast in during de scene where de Nazi officer is having his face gnawed off by a hundred rats and it's lovely toast, I hafta say.