The Butterfly-Maiden - Rewrite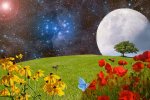 Sun, 23 Jun 2019
1 likes
This is a resurrected poem from 2011.
I wanted to put something on for
International fairy day, 24th June 2019.
Slipping through rainbow coloured mist
the butterfly-maiden searches the fields
seeking to find succulent berries to eat,
such as can be found on brier and bush,
when on her search for mushrooms fresh
she spied two field mice scamper away,
'Oh where are you going in such a hurry?'
The butterfly-maiden desired to know.
'To the woods,' squeaked the mice,
'for the farmer is coming with his plough.'
The butterfly-maiden flew off in a trice,
flying she appeared to be following the mice
down to the dell where stood the old wishing
well.
Gold coins lay on the old stone wall,
she delicately picked one up and held it,
making a wish she threw it in, not a sound
did it make not even a din;
'Now what was her wish?' I hear you ask,
well the farmer was careful to plough his land
in the ways of the old with his own bear hands,
he left parts wild for the creatures so small,
didn't take from the land without a thought
for them all.
So the butterfly-maiden wished that the
farmer and his wife, would have a bountiful
harvest the rest of their life,
then off she flew to talk with cuckoo who
sang to her of the sky so blue, she took
this song to her butterfly friends, who
sang it to the blue tits and the wrens.
Pixabay free image.