Head Full Of Dreams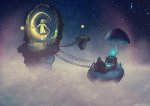 Thu, 25 Apr 2019
Every writer has a gem
they wish to share
coming out of visions
exposing their flair,
some are like diamonds
glimmer and shine
few are full of promise
as if from goldmine,
squirrels hide and lose
treasured garden stuff
as ideas can be lost if
not exposed fast enough,
I slip into dreams
sail through the night
visualize each planet
a star sequined light,
breezes wave invisibly
at full moon as I pass
casting shadows below
on dew kissed grass,
darkness consumes
every image I project
till ready to display
soul will protect.
Head Full Of Dreams
by Coldplay.
Image by pixabay free.