Open Windows Of My Soul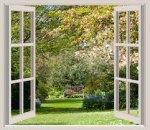 Mon, 16 May 2022
Windows to my soul are like
an open book, where tears of
emotions disperse from eyes
like rain from sky; drops run
down pane; and my cheeks
unveil the sometimes harsh
realities.
But then a new day brings
blustery wind that blows
cobwebs and weeping away,
creating at times lively thrill
that's never boring. Now it's
been ages since this mortal
has been restless, or edgy
with eagerness to consume
the unknown.
In troubled sleep; dreaming of an
old friend, recalling briefly the
void left by uncertain languished
predicaments. Remembering night
spent outdoors in silence; motionless
without protection, doubting sanity;
afraid to sleep when tricksters are
everywhere, robbing you of who to
trust...I was hungry for sunrise,
somewhat disheveled.
But I'm bought back to the here and
now. Somewhere off in the distance
of my open window; I'm tearing up
again, moved when hearing precious
lyrics dance across relaxed perimeter;
hearing: "You've got a friend;" blown
in from long ago lips, plucked like a
delicate flower, letting words seep
from pages of my life with zest.
Time written past ventures scribbled in
diaries; following high equilibrium of
being young...though veiled for a while,
but with age becomes a clear road I've
traveled.
Now from my open window, I'm
watching garden birds; they hold my
attention, I imagine their complex
spring cleaned nests; they don't
worry about swapping aspirations of
contemplation, they're just attuned to
sounds all around, in this garden of
inspiration.
You've Got A Friend:
By James Taylor.
Pixabay free image.