Shadowy Visions Of The Past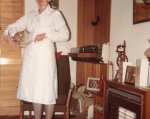 Mon, 17 Jul 2023
These days you've probably seen
more interesting cupboards than
mine, but lately I haven't felt the
need to shower my taste buds in
the joys that chocolate brings to most,
though I do recall younger times
ensconced on the settee with a
piece of devils food cake...
especially made with my own
fair hands; absorbing each velvety
mouthful with enthusiasm,
I remember every detail; biting into
that lure of tempting, dark, rich;
buttery topping – followed by the
overwhelming avalanche of flaky
sponge, with yet more icing wrapped
in an outpouring of sweetness that
melted in my mouth.
Many gaze with countenance at
cookbooks with alluring sugar rush,
adulation for the skillfully enhanced
images; leaving the chocolate cake
devotee with mouth-watering desire.
But these recipes are but a shadowy
visions of the past for me.
Photo is my own.