Through Eagle Eyes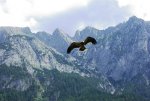 Sat, 22 Jun 2019
Limitations are those
we create from fears,
strength in faith of
mind needs patient ears,
guide this soul across
tallest mountain peaks,
shower me with courage
even as I tire for sleep,
Imagine myself with wings
outstretched on air stream,
following rivers – lakes, no
restrictions that I look upon,
for I am a commuter up in vast
ocean of skies, swooping – soaring
native lands, gazing through spiritual
eyes, that glow with ravenous passion,
frenzied infants call from highest crags,
or nest atop tallest trees, where Dryads
whisper sweet lullabies, nymphs schooled
in wood which lingers in burly trunks,
elemental roots focuses on young leaves,
protectors of environment, collectors of twigs
cradling young – availing their services, while
branches listen...they are seekers of sound.
Rocks tripping before me simpering gentle spirit,
dozens of them sleepily dropping as gliding this
land of limitless dreams, now weathered by sun I
have entered that life which now echoes my return.
Photo by pixabay free images.