Aura (16)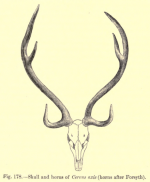 Thu, 08 Nov 2018
Edinburgh
2016
Gillis felt prickles of anxiety as he was carried off the train in a surge of people. It was a long time since he'd been out of the sticks. Waverley Station was mobbed. Commuters clipped past him trailing hand luggage. Groups thronged beneath the live departures boards. He threaded his way through the crowd and up the escalator to Princes Street.
At the peak, he lit a cigarette and checked the time on his phone. Folk bumped past him, chasing a number 26 bus pulling over further ahead. A man in a kilt was playing bagpipes on the steps of the Balmoral Hotel beside the station entrance. Gillis looked up and down at the streams of people lining Princes Street, the wash of colour, the logjam of buses. He advanced towards North Bridge, stuck his thumb out, and climbed into a taxi.
During the short journey he pushed a propananol tablet from its foil package and washed it down with water. He straightened his tie and rubbed crumbs of sleep from his eye. They cut down Leith Street, past the large glass structure of the Omnicentre. Down Leith Walk, they pulled over at Gayfield Square, and Gillis walked over the cobbled street to the police station, a dark two-storey stone building with smoked windows, nestled between council properties. He weaved between the neon-yellow and blue patrol cars parked in the forecourt and made his way up the steps to the lobby.
DS Mina was waiting for him by the front desk, alongside a large, imposing man with closely-cropped hair and a chin like a bathroom sink. Mina flashed him a brief smile.
'Good to see you, DI Gillis. How was the train journey?'
Gillis nodded. 'Fine, aye.'
She handed him a laminated ID pass, which he clipped onto his jacket lapel. The large man was looking him up and down, arms folded across his chest.
'This is Chief Superintendent Stuart Blair,' Mina said. Her eyes widened slightly as she caught Gillis's, as if she was mentally urging him to stand up straight and pay attention.
'Good to have you on board, DI Gillis,' Blair droned. His handshake was firm and meaty. 'I've spoken to CI MacPhee up at Northern personally, he's approved your secondment period. He'll be overseeing the case you were working on for the time being. We've heard about that down here, by the way - the Watt case? He was making a fair mint.'
'Aye,' Gillis sniffed. 'It's at the arse end anyway. He's fucked.'
Mina winced. Blair shifted his feet and suppressed a smirk.
'Anyway, we appreciate you making the trip down from Inverness. I know Elizabeth believes you'll be able to offer some invaluable insight, especially in terms of the historical elements. Twenty-eight years... remarkable. Serology are busy at it, anyway... building a complete DNA profile from the blood sample taken in '88, as we speak. Some business, some business.'
'That it is,' Gillis swallowed. 
'Yes,' Blair said, his left eyebrow raising a touch. 'Invaluable insight... well, we'll show you up to the CID suite and you can grab a coffee. Some interesting developments in the past twenty-four hours, that's for sure. But I'll let you get your bearings and Elizabeth can fill you in.'
A uniformed lady behind the desk buzzed them through a locked door. Blair guided them through a series of stairwells and beige corridors, deep into the heart of the building. Strip lights fuzzed in the ceilings. At the CID suite doorway he left them, slapping Gillis's back as he departed. 
The suite was busy. Filing cabinets lined the walls. Groups of officers were gathered around laptops, typing and scrawling. Coffee cups, banana peels and crisp packets lined the desks. A waste paper basket by the far wall was overflowing with scrunched-up sheets.
Mina walked Gillis to a desk in the corner of the room, nodding to her colleagues. Gillis avoided eye contact. Mina slid into a swivel chair, unclipped a blue plastic file, and spread several sheets over the desk. Gillis looked around vacantly for a moment, before dragging another chair over to the desk.
'As the Chief Superintendent said,' Mina sniffed, 'there's been developments. A significant breakthrough. We'll give you a full briefing, but, in short, we may be looking at a second locus within the next forty-eight hours.'
Gillis's forehead creased. Mina nodded.
'It's complicated. Forensics have been busy at the Duddingston Loch locus; the pictures you saw. Beyond the mask, there's been negligible returns in terms of trace evidence. No fibres of clothing, strands of hair... no blood or saliva beyond the victim's.'
She paused and dipped her head, strands of fringe falling loosely across her forehead. 
'However... however, officers recovered Neil Laidlaw's laptop from his flat in Granton. This has proved to be vital in terms of guiding the current direction of the investigation.'
Gillis clasped his hands and leaned forward, straining for bright and capable. Mina sifted through sheets.
'They were able to conduct a full analysis. Fortunately, in some cases. His laptop was open and he was already logged into various accounts. It turns out he was accessing blocked sites... accessing the dark web through a Tor browser. And here's where we're at now: in short, we're well aware that Neil Laidlaw was engaging in digital theft. Specifically, he was stealing bitcoins. I'm not sure how familiar you are with digital theft and bitcoins, but... '
Gillis puffed his cheeks and exhaled slowly. He felt the thin veneer collapse.
'Where's this bloody coffee?' He breathed. 
Mina blinked, pursed her lips, and stood. She walked over to a pot of coffee sitting atop a filing cabinet and poured out two mugs. On her way back she stopped by one of the small groups gathered around a laptop, and a young, bespectacled man rose to join her. Gillis watched them and pinched the bridge of his nose. His head felt leaden after the three tablets he'd taken. Still, it was better than shaking and sweating. He'd managed a few contributions. 
Mina drew a third chair up and the man joined them at the desk.
'Thomas Craven, from our Cyber-crime unit,' Mina explained, sliding a steaming black coffee over. Gillis took the man's hand and nodded. Craven shook eagerly.
'And you're down from Northern?' He said. 'Crazy stuff. You really think there could be a link to the Shetland murders in 1988?'
Gillis opened his mouth, but Mina raised a hand.
'Thomas is better placed to explain Laidlaw's online activities,' she said, tapping the file.
Craven looked between them, nodded, and placed his hands on the desk. Gillis slugged back his coffee and wheezed. His guts grumbled loudly, berating him.
'Aye, it's a bit of a pickle,' Craven said. 'The laptop was asleep when it was picked up; we were lucky he was signed into his bitcoin account. That would have been a tricky one. But that's the nugget, yeah. Stealing bitcoins. Not huge amounts, mind. More small amounts from different places. Cumulatively a decent haul. He appears to have managed to copy a substantial database of private cryptographic keys... and subsequently gained access to the bitcoin hauls at those addresses. He steals... he stole varying amounts from all of the addresses he had access to; he was either spending the bitcoins straight off, or laundering them, funnelling them through a series of tumblers - '
Gillis coughed and spat coffee flecks across the desk. Mina slid her chair back and Craven stopped. Gillis straightened his back, removed a ragged tissue from his pocket, and dabbed at his coffee-spittle marks as if it were a natural, dignified act; good manners.
'Can I ask... ' he breathed. Craven leaned in.
'Ach, screw it, I don't have a clue what we're talking about,' Gillis said.
Craven smiled. Mina checked the clock on the wall. Craven rustled through the sheets on the desk and withdrew one, smoothing it out before Gillis. Gillis wiped his chin with the tissue and stared down at the incomprehensible jumble of digits and words.
'Essentially, there's no such thing as bitcoin,' Craven said. 'The whole currency is really nothing more than a public ledger system, called a blockchain. This ledger keeps track of a vast list of addresses, and how many units of bitcoin are at these addresses.'
Gillis scratched at his beard. Craven peered at him through his glasses.
'If you own bitcoin, what you actually own is a private cryptographic key that unlocks a specific address. This private key looks like a long string of numbers and letters. There's various potential methods of security, but all these methods are vulnerable to theft, because theft simply depends on gaining access to this private string. And that's what's happened here. At some point Neil Laidlaw has copied a database of private keys. He's clearly a bit of a whizz with this stuff. He might have hacked into an online service that stores private keys, or perhaps he was privy to insider information. He might not have had to do much hacking at all. Regardless, at this point, he now had control of the bitcoins at all these addresses.'
Gillis glanced at Mina. She was looking impatiently at the other officers in the room, huddled around laptop screens. He drank from his mug and squeezed his eyes shut and open.
'I kind of get you,' he said. 'But I'm not here to get a computer science A-level. I'm presuming this gobbledygook leads to him getting strung up at Duddingston Loch. So he's into dodgy online manoeuvrings. He's ripped some folk off. How does this - '
Craven straightened up and jabbed his forefinger at Gillis.
'The vital point,' he said, 'the vital point here is that the blockchain is public. Anyone... anyone can see which addresses bitcoins are transferred to. Laidlaw was taking amounts from different accounts and moving them from address to address. Laundering. He used 'tumblers' which randomly crisscrossed his stolen haul with other user's bitcoins. This gave him a clean pathway - the blockchain couldn't connect with any of the addresses from which the coins were stolen. Still, the blockchain remains public. Thieves leave traces. Programmers find ways to extract information from the blockchain. Someone was on to Laidlaw. Someone who was losing money. And here's the kicker - we think we know who.'
Gillis's eyebrows lifted. He grunted and splayed his hands over the desk.
'What do you mean, 'who'?'