Aura (7)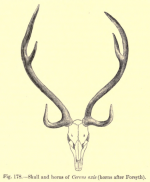 Thu, 01 Nov 2018
Water dripped from the iron ceiling. Sounds were tinny, ringing and contained. They sloshed through muck. The torch cut a pale shaft through the gloom. 
Bain heard the child crying but it sounded as if it was above him, around him. 
The darkness, the muggy echoes and the smells were stifling. Although the torch did its best to pierce the black cocoon, his proprioceptive senses felt impaired. As they progressed his skin tightened, and he lost the sensation of where he was in space. The speed bombs he'd washed down before leaving jangled in his system and his heart pounded. Sweat clung to his back and spread under his armpits. 
Gillis was breathing heavily behind him. Bain heard the muddy schlepp of his shoes. Illusory spots danced across his vision and remnants of his dream leaked back, sudden images cast forth. He saw the deer with its bony wings. The red puddle in the snow.
Gillis was whispering but Bain was somewhere far away. The crying took on a sing-song quality and it felt in that moment all around them. 
Then it stopped. There was silence. 
Stagnant air. Heavy drips. The wind moaned but it was a distant thing; a part of another world, the real world. 
Bain's breath came in sharp hisses. He felt the weight of his own life crushing him inside the tunnel. Memories clouded. 
He saw people passing through, people he had loved and lost. He saw the empty years spent alone, years numbed with booze and amphetamines. It all seemed to have happened so fast. Too fast. Time whipped by, stripping him of his spark and self, and he had allowed it. He had sat indifferent and decaying and now there was nothing. He had made nothing of his life, and this was the place he was supposed to be.
'I've made a mistake,' he breathed. The torch swithered and Gillis was close to him, his face a shadow cut from deeper layers of black.
'We have to go back,' he whispered. 'It's not safe. We need armed officers. We have to call this in. We don't know what's happening on the beach. It's not safe either... this isn't... it isn't procedure.'
Bain caught his eyes, white eggs in the dark. Scored with lines. He felt a waft of cooler air above him. They heard wet gurgles. Sporadic sobs. He knelt. His left knee sunk into vile-smelling mud. Insects crawled over his shoes. He slid a small knife from the sheath in an ankle wrap. Gillis's chest rose and fell.
'You fucking idiot,' he said. 'You fucking paranoid moron.'
Bain's upper lip curled. He pointed up. Gillis eyeballed him and raised the torch. The beam fanned across the iron roof. They felt the change in the air. Saw the hole. It was to their right, about head height. A gaping wound in the corroded piping. Panels bent back. A black aperture. Tunnels within tunnels. 
Bain reached up. He patted his hands round the earth lining the opening. Rusty metallic granules floated down, suspended in the torch light. He coughed and wedged his elbows into the opening. Iron rivets, sharp points of torn metal, dug into his suit jacket. Gillis pressed close and sprayed the torch inside. They heard the soft sobbing, closer.
'Don't you dare,' he breathed, but his heart was not in it. The knife had restored some heart to him, and the tearful noises awoke an intense anger. The knife twisted into dirty clods as Bain pushed forward and wriggled his frame. The earth was packed tight around him, flattened, patted down. Someone had hollowed this out. Burrowed in. It was remarkable. Terrifying. 
He clawed forward. The tunnel widened and he was able to shift from his stomach to his knees and finally he was on his feet, bent over, hands padding along the soil frame. 
Gillis groped and coughed and emerged behind him. A small underground passage; it expired just ahead, a dark wall of dirt blocking their path. There was another opening to their right. Another hole hewn into the earth. Piles of earth and stones littered their path. 
Gillis staggered up and aimed the torch. Bain was pressed against the wall. Soil flecked his shoulders. He was sweating profusely. His eyes were wide and his chest rose and fell quickly. Past him the girl was crouching on the muddy floor. Her hands were tied. Her raincoat was mucky and torn. The deer mask was strapped to her face with threads laced through holes in the wooden visage. The antlers dipped as she moaned.
Gillis tripped forward. He clutched Bain's arm as he passed, pressed hard, tried to shake the fear from him. He made for the girl and knelt before her. His voice trembled but he forced a calm tone, a soft tone, reassurance as the packed earth walls closed around them and he untied the mask.
The torch lay on the earth beside him. Its light dimmed and blinked on and off, on and off. The batteries were palpitating, dying. The girl looked up with large wet eyes and Gillis clasped her hand.
'We're going to get you out of here. We're going to get you out of here. We're - '
His breath caught in his throat as the torch winked out. The girl screamed. Gillis held her. He screwed his eyes shut and willed away the claustrophobia, the pure screen of darkness and the shapes developing amongst it. Whether hallucinatory or real the rush and fever they brought paralysed him. He could not catch his breath and he pulled the girl tight against his chest as she screamed and then there was a dull orange wash. He exhaled and twisted his neck. 
Bain held the lighter like a mystic charm, a protective amulet. He was approaching the opening in the dirt wall. His face was deathly pale, smeared with dirt, and he ducked and pressed his hands to the earthen ceiling for support. His demeanour was trance-like, lost, and he stepped tentatively as if crossing a portal between worlds.
The girl spasmed and shrieked and Gillis clasped her face between his hands, pressed his lips to her ear, willed himself back to the present and breathed I am not leaving you I am going to get you out of here I am not leaving you. He slipped his hand into hers, gently lifted her, rose, turned and saw Bain emerge from the hole, wild-eyed and desperate.
He clung to the girl's hand as Bain lunged across the tight space. The lighter fell and all was darkness and he felt hands on his shirt pushing clutching imploring.
'Don't you go in there! Don't you fucking go in there!'