Martians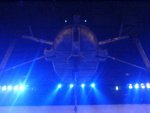 Sun, 20 Nov 2016
I don't know what I'm going to do about my husband Jack
I got up this morning and went outside and he was on the porch in a chair with a semi-automatic rifle in his hand.
"What are you doing on the porch with a gun in your hands, Jack?", I asked.
"I'm protecting you and the kids from the martians", said my husband scanning the horizon.
"Martians?", I asked, hoping it was some kind of joke and that my husband was not having a psychotic break.
"Yes", he said, "Alex Jones on InfoWars said that we were being invaded by martians. I've seen the video evidence, Martha. I would show it to you but I'm afraid it might terrify you".
"But if the Martians were invading. Wouldn't it be on the news?", I asked.
"Wake up, Martha", he said; a crazed, hunted sort of look in his eyes, "When are you going to realize that the mainstream media is lying to you. They're all part of the illuminati just like that zionist, martian loving whore of Babylon Hillary Clinton".
"But, honey", I said, "There are no martians. Scientists all agree that there's no life on mars".
"And you don't think that the scientists are part of it too?", said Jack, "God dammit, Martha. Use your brain. All the information that comes through that boob tube you call television is just lies and propoganda to push their left-wing; gay loving; zionist; gun hating agenda. They want to overturn the second ammendment and disarm all of America so that when the Martians attack we'll be defenceless. Well they can take my gun from my cold dead hands. I only thank god that Donald J Trump is our president. He's going to build a wall to keep them all out".
"The Martians?", I asked; incredulous.
"Thats right", he replied, "He's going to build a big wall in space; a wall to keep those raping, jew-loving; satanic martian bastards out and he's going to make them pay for it aswell".
"Jack", I said, sighing, "Don't you remember that we talked about all this when you were so convinced that the Sandy Hook massacre never happened and I showed you how the conspiracy theorists edit the video evidence to misrepresent true events".
"Sandy Hook was a false flag operation, Martha", he said quite seriously as if he were a secret agent or a soldier and not someone who operated heavy construction equipment, "They were all crisis actors; the parents, the children, even the dogs weren't real dogs".
I went back inside the house and up to my bedroom and called my mother.
"I don't know what to do about him, Mom", I said, "Ever since he got into this conspiracy theory stuff he just thinks the whole world is fake. About the only person he trusts now is Donald Trump".
"I'm afraid there is only one thing you can do, Martha", said my mother.
"What?", I asked.
"Kill him", said my mother, "He knows too much".