Mirror Angels - re-written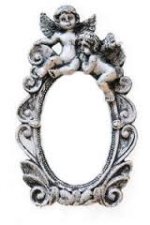 Fri, 17 Jul 2015
Sometimes, I think you boys were angels before.
I wonder did you watch us with lamp-like eyes absorbing
every fault and gaudy cloying moment;
every too-hot sticky summer's worth
of heady sugar-fed haze that led
on to cracked ground wintering-down
when we walked the Thames those precious times?
I felt your forgiving gaze back then
as you both lay cloud-bound
shaking your heads, swapping knowing squints
tuts, half-smiles and nods
at us, meandering in circled streams of time.
Things were in the shimmer-haze then,
the wolves still far from the door,
we lay simpler in our innocence;
yet to fall together.
But you two were always there,
shuffling up to make more room?
You'll never tell us, you're not the type
but we hope you're not the last.
Other times I think you know it all,
that you've both been here before.
Your gaze must have skipped like flat, blue stones
over many knitted souls.
You chose instead to come to us
with puffy fists all stuffed with love.
What did you ever see in me?
Was it because she said she'd given up?
Once she knelt at a toddler's knee,
tended, listened, met her gaze.
In it, one mirror angel swam in salt.
Since then, I've always known.