Grimms5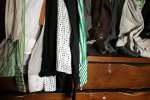 Tue, 10 Jan 2017
Most folk in a room and kitchen round about here envy us, because there is only me and Da. I guess even Pizza Face, if he ever thought about anything else, but becoming Jim Baxter and playing for Rangers, with his seventeen brothers and mum and dad would begrudge us two rooms. I don't. I envy them. Da's at work, or the boozer. I'm not long in, jacket still wet from the rain, grey V-neck school-jumper damp at the collar, tie askew, slack on my throat, pulled aside when running, my school shorts stuck to my thighs because I'm getting too big for them and I don't know how to ask Da for new clothes, or new shoes, because these are too tight and I've kicked the toes out of the right foot playing fitba. I do what I always do when he's not in and I'm scared and go to the wardrobe in the big room where Mum kept her clothes. It is mahogany, or something, takes up a good part of the back wall, and it would give Da and one of his cronies a decent fight if they tried to lift it. Although I'd never tell anybody it comforts me and calms me looking inside the wardrobe, even when the door creaks open like a coffin in a Dracula film.   
I don't turn the light on. Mum's clothes aren't empty, they have left something of herself inside. I come here to hear her talking and laughing with the neighbours, dolled up in the green dress and sheer silk scarf she liked so much –she's like a movie star gone off-screen. Everyday clothing hanging in a wardrobe.  I bestow a kiss on that old thing she liked to wear when nipping to the Kippen Dairy, tan tights stuffed in a pocket, as if she'd going to reach back for them, threadbare memories no needles can sew or unpick. Blue nylon, the odour of lingering illness on a hanger. I stroke the basted hem of the pocket, the machine stitch of the zip for luck, for good or bad. I tremble at an even line of the undressed hung limply from the hanger, the swirl of blues and greens, the darkness of browns and blues, but never black,  and the treasure of the body that is missing, but in smell and touch, radiate a hot iron of feelings in my chest and the breath of life. Cotton that chokes me with sobs as I rub my face against a nightgown. Her shoes are higgledy-piggledy at the bottom of the wardrobe, no left or right, no legs drawn up and joined to her feet as she sat comfy in the chair by the fire. Heart-catching, crooked smile, when I'd tried on her shoes when I was wee and paraded about the room saying I wanted to be just like her when I grew up. A door opens inside me, I steal, nimbly, from the room.
  Dr Who is on the telly soon. Da is in sooner. He fills the sink with cold water, not heating it in pots as Mum would have done. He'd already pegged the coat to the outside door, like a black hole to the outside world. He strips without fuss his soiled jersey and shirt and vest and quickly washes and takes a shine off engrained dirt. Playing the white man he kicks off his boots and steps out of trousers, washing quickly down there, where nobody would see. He lets the water drain and refills the sink. He follows me through to the living room to dry himself at the hearth and stick on his best clobber, which is primed, waiting for him on the arm of the chair. White shirt and tartan-green tie, dark Sunday suit and polished brown brogues. He combs his hair leaning over the hearth till it clung to both sides of his head like wing mirrors. His face was ruddy and rude with health.  Rain hit the panes like a handful of change thrown at a wedding.
He picks up the poker and drives it into the piled coal. Shadows jump and flames leap more wildly than any special effects in Dr Who.
Eases himself into the chair by the fire. His eyes open and he sniffs and snorts. 'Whit happened?'
'Cybermen are chasing Dr Who.'
'Oh, aye, that's right.' He acts as if he's forgotten and not fallen asleep. Eyes glittering, a bit of a bead in him.
'Let's get some dinner, boy.'  He's swung his body sideways in the chair, elbow digging into the armrest furthest from the fire to give him leverage, digging deep into his back pockets for notes and coins. 'Chips,' he says, ruffling my hair.
I ignore him elbows on the floor, chin in his hand, concentrating on Dr Who. until I know for sure Dr Who, has no chance of escape, is going to be killed and the theme music comes on.
In his left hand a Woodbine, half smoked, ash falling to the floor. He took another drag. 'It's always chips, innit?' And the way he says it, smacking his lips, makes you know it's special because he's got money and it's not a problem.
'Aye.' I turn around to look at him, grinning.
'Get me a fish supper then.' He hands me the money. 'Get whatever you want – and get yourself some ginger and some sweets.'
He is staring into the fire, finishing off his fag, when I leave.