Soul Boy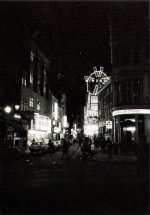 Mon, 04 Sep 2017
1 likes
I am fifteen years old,
a wedge haircut before Brideshead,
a forever flicked fringe, soul blue eyes.
It's 1979, my last summer has gone.
I am the Saturday boy
at Lilley and Skinner. Selling shoes,
pop socks and polish to the pay packeted,
the dolled up lasses from the factory.
The manager, a face of a weasel
was friendly, as to be in love. Together
we would stride to the market at lunch,
searching for records from Detroit.
I would be given cake, asked about girls
and had I ever seen London at night?
The manager said he would take me. There
were relentless questions about boys.
Marvin Gaye at the Royal Albert Hall,
I sway from the balcony, two pale ales
tall, singing along to 'What's Going On?'
Confused as he touches my thigh.
"Its a shame the last train has gone." He said.
"But they do a nice breakfast, and I've got
a bottle. Some cans and fags
right here in my satchel."
He rises over me and I grip the sheets,
paralysed by bad breath and hate.
Outside the hotel room, the noise of
machines. Inside, the silence of rape.
I'm fifty three years old in the
therapist's chair. She explains the
conflict between my Dad and I,
but my mind was taken elsewhere.