Closing the accounts of the late Deborah Hambrook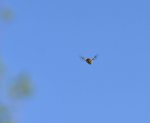 Mon, 06 Nov 2017
1 likes
Closing the accounts of the late Deborah Hambrook
That was the title 
of the letter that came.
I was expecting it
because the money was transferred,
so I had heard.
But the letter caught me,
as mundane things do.
I took it in the loo,
sat crying with the door shut,
tears pouring onto black print
blurred templated words
on headed paper,
space filled in for name 
and bank numbers.
I thought -
at last, the final task complete,
closing accounts of the deceased.
Not the deceased...
my Mumma.