Message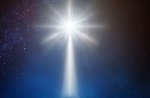 Sun, 24 Dec 2017
sent via ╜╝┼╡╢╤╕╦╧╘ .
Subject : Message from Alpha Centauri
Hello Earthling(s?)
We have been watching. Baltachior believes we have been watching for twenty of your earth years. Malkar thinks it may be a hundred. Your servant, Kaspazar, remains unsure. The calculations regarding the time for the booster signal to arrive from our satellite at the outer edge of our own star system are definite. What we cannot know is how long the waves - micro, radio, light and every other kind - take to reach our satellite from your charming planet.
We wish to inform you of our intention to visit. A cosmic event has come to our notice. It is taking place as we write – within one microarcsecond (Baltachior assures me this is a measurement you will understand) of your planet.  Events of this kind, in such proximity to inhabited planets, are believed to be the precursors of scientifically inexplicable events. Wonders – or miracles – as we believe you say.
From what we understand, we should pay our respects to your leader. Malkar has suggested we say "take me to your leader" on arrival. I think he is joking. He is our expert on "Television", is it? My own brief studies of "Television" indicate to me that perhaps there is no leader in re (this is the closest term I can find). Is this so? No matter. After much discussion, our first port of call will be the large white building in Washing Town. One question I am desperate to have answered is why this building is called a house, we all have the impression that a house should be much smaller. Is it not a palace?
Naturally, we are bringing gifts, as a mark of interplanetary respect. It is understood that the custom is to bring gold (so plentiful here on Planet 3 of our Star system), Frankincense and Myrrh. Regrettably, we have been unable to resource these latter two. However, Malkar insists that we will be able to obtain them at the Walmart.  I do hope so.  
Do excuse any infelicities of language, which are entirely my fault. I have been working on the universal translator for most of my life. If only we could find a babel fish! (Please excuse that joke, Malkar insisted).
Our records show that approximately 2000 earth years ago a similar cosmic event occurred, in an equally close position in relation to your planet. We look forward to being present at a similar occurrence.
Respectfully
Baltachior, Malkar and Kaspazar