Uncoupled (IP)

Image: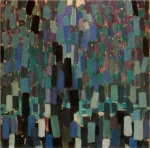 Tue, 03 Apr 2018
1 likes
Abused to abuser.
Bullied to bully.
Abandoned to loner.
Orphan to childless.
Refugee to wanderer.
Immigrant to native.
Lover to stranger.
A memory is not the future
not a tramline.
The past is glass,
condensation on a little, shattered window.
Too often,
to shape ourselves,
we pick the brightest shards.