Of one thing we can be certain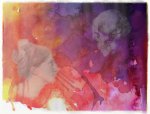 Sun, 07 Oct 2018
Plastinates
We have become something else
Like the weird sisters' old riddle -
Lesser than ourselves and greater.
We are chemicals and frozen bones,
A delicate tangle of sinew.
Sagging breasts and wide eyes,
Like cold, blue marbles.
We do the things we always have –
Ballet dancing and basketball,
Playing cards with others,
Holding a hand that will never change,
We didn't know we looked like this.
Our skin suit peeled off and
Draped across our shoulders
Exposes everything we were,
Shows the leveller's work.
We are awful,
We are absurd,
More than human,
Only plastic.
*
In the room
In the centre of the table,
The wreath is beautiful,
Elaborate.
"I brought it back from the crem,
I didn't know what to do with it."
What can you? -
Put it in the kitchen by the cat food and breadbin?
Outside in the garden on the graves of childhood pets?
No, a wreath is austere and awkward.
Not a crowd-pleaser in home décor,
Not a fitter-in.
And I'm thinking about the thing we left behind in the box.
Bruised, sallow flesh,
Prospective ash.
Can't anyone see it?
Lilies and roses don't mask its smell -
It's followed us home.
On the table, the wreath's lilies sit,
As white and bare
As the grin of a skull.
*
Echo
I am haunted by rooms emptied of possessions.
Void where life used to be,
They have taken everything.
Now there is only slanted light
Through murky windows
And the artful eye of the seller's pictures.
It's a doer-up at a great price,
Really worth looking at,
So I'll show you round.
Here's where my father hid his vodka bottles –
Just there in the cupboard under the stairs.
Here are the stairs he fell down
On top of my mother and broke her arm.
Here's the bedroom where he pissed the bed nightly.
Here's the kitchen where she lost her mind,
Where he died.
They cleared out every photo album -
There is nothing to confirm I had a childhood,
Only my memories of photographs –
And I've never trusted photos.
Nasty, slippery, unfaithful things.
There are no echoes in this house.
The walls are too thick,
The beams too sturdy.
The house will absorb,
The house will get over it.
*