Somebody Sang and I saw the Colour Blue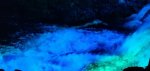 Fri, 11 Jan 2019
Somebody sang and I saw the colour blue
     a long song about distance, how far..
How far are the things which are just out of reach?
     In searching we cast aside gems,
                                       dulled by the swell of life, we're blind to their shine.
     Still we search until we grow small
and fade into the blind doubts of our settled twilight.
     Remembered in a sea of distortion
where memories roll and spin in the salt swell then
     are stifled in the airless traps of time.
Voices lost like whispers in the surf, trace the tidal heave.
     All of us divine that we shall float yet
down down we go, swallowed whole by the fathoms of age.
     Face the sea monsters we formed and
release them from their nets; their features soften as they drift
     away like they were never really real.
All that's left are feelings because no-one remembers the same.
Somewhere distant the long song still plays.