The Love of the Loveless (Chapter 4) (3)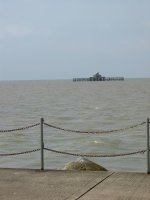 Wed, 27 Feb 2019
      I hovered the mouse pointer over the 'Post' button.  I really wasn't sure about it.  I shut my eyes briefly.  I could hear the low hum of the computer fan, the seafront clock chiming the quarter, some gulls crying as they flew over, the faint rumble of traffic passing along the promenade. I could see Lucy in my mind's eye.  I saw her as she was the last time I'd seen her, eleven years ago, when I hugged her close that final time and watched her walk back along Market Street and mingle with the Saturday shoppers there, until there was just a glimpse of her hair in between, and then that was gone too - as if she'd been absorbed by them, back to atoms, vaporised, gone. 
      I thought about the woman I'd seen earlier, with the baby.  It wasn't her, of course - she was too old for a child now.  She'd always wanted one, too.  As always, I found myself wondering about her: what she was doing now, where she lived, if she was with someone else.  I tried to imagine how she might look now, eleven years on.  Not vastly different, most likely.  Like me, she favoured the same clothes.  She didn't change her hairstyle.  I sometimes wondered if we might have had more in common than we'd first thought, as she was awkward socially and liked to keep her routines.  I'd Googled her name a few times over the years, but hadn't come up with much.  She didn't use Facebook or any other social media.  I wondered if she was in same job at the local council, but couldn't see her name mentioned anywhere.  I didn't want to contact her, anyway, in accordance with her wishes.  But I couldn't help wondering. 
      I opened my eyes again.  The pointer was still hovering there.  I clicked the button - and my comment appeared.  I read through it quickly.  Then I logged off.  I sat back and sipped my wine.  My eyes settled then on a small plaster figurine I kept on my desk, by my pen pot.  I picked it up and turned it around in my fingers.  Guanshiyin, an enlightened one, in flowing robes, seated with her legs crossed in yogic posture, her feet resting on the tops of her thighs, cupping a lotus flower in her hand.  Guanshiyin - bodhisattva of compassion in Buddhist belief - whose name means 'observing the sounds of the world.'  A wedding gift to Lucy and me from the pagan Priestess who made our hand-fasting.  It came to me afterwards, with everything else - all the stuff in those boxes in mum's loft.  She wanted none of it.  The photographs.  The posy she held (dried in a box).  The cards.  The poems.  The band she wore in her hair that day - the tiny blue flowers, threaded together, like stars in her hair as she stood by my side in the woods that day, in cold February.  The silver and gold braids that bound our hands as the vows were spoken:  'For as long as love shall last.'
      How long does love last?  How long does it hold?  Is it always there?  Does it ever fade?  Can something shared like that simply go, like a day that passes and cannot come back?  If love is a memory, can memory be love?
      I put the figurine back in its space.  Frozen she sat, observing the sounds of the world with me.  The clock.  The gulls.  The traffic passing.  The sounds of another day slipping by...
      I'd intended to do another job that evening.  Something for mum's birthday.  I'd bought her a digital photo frame, and a few weeks earlier I'd secretly borrowed some of her favourite family photos from the box she kept in her store cupboard.  I'd scanned them all into the computer, then cleaned them up as best I could: cloned out creases and specks, repaired tears.  I'd sharpened them, too.  Finally, I'd added some subtle colouring to a few of them - skin tones, pale pastel shades to clothing and surroundings, touches to hair.  All I needed to do now was check them over and transfer them to the frame.
      I opened the folder on my Desktop and looked at all the thumbnails there.  Then I shut it again.  It was too much to face now.  It could wait until the morning.  Besides, the wine was doing its stuff nicely.  I picked up the bottle and held it to the window.  Just over half left.  I could see that out.  I decided to watch a film instead, then have an early night.  I checked through my case of DVDs.  The favourites all beckoned.  Withnail and I was tempting, but I'd probably end up going out for more booze to keep up with them.  The Big Lebowski was there, too.  A few hours with The Dude and Co might do the trick.
      And then I had it.  The Wrestler, with Mickey Rourke.  I didn't like wrestling, but I loved the film.  I loved that character he played.   His coping with age, with loss, with being alone, with the last days of his career.  With trying to win back a lost love.  His daughter's.  In many ways, it spoke to me.  109 minutes.  Just right.  I slipped it into the DVD player.  Tinker was still in the armchair and I didn't want to move her, so I sat on the floor.  I slipped on my headphones.  I refilled my glass.
      The next thing I knew, the bottle was empty, the film was over, and Tinker was fussing for her supper.  I fixed it for her.  I was about to switch off the computer, but I checked back quickly to the forum.  A few people had commented on BStrong's post, as I'd hoped and expected.  And she'd posted me a reply.
      Dear Tom
Thank you so much for your heartfelt comment.  It brought tears to my eyes reading it.  No need to apologise, as this was actually a lot of help to me.  It's what I needed, really - to get that perspective.  It's enabled me to look at things in another light.  I'm so sorry that things didn't work out for you and your ex-wife.  She clearly meant a lot to you.  What you say resonates so much with me.  I will think on your words and do what you say, if I pick my moment, and talk to him. Thank you again for your valuable insights.  Go well.
      I didn't read any more.  I'm sure the others all had good and encouraging things to say.  I logged off, shut down the computer and went to clean my teeth.  I threw my clothes off and got into bed, and felt the warmth and softness envelop me.  Tinker came in and jumped up, and found her usual place beside my pillow.  I tried reading, but the week had caught up with me.  Tinker's purring, too, was like a soft lullaby.
      I switched off the light, turned over, closed my eyes.  My mind went into that pre-sleep free-fall.  The stuff in my head played out against the inside of my eyelids like a fast-frame film.  A cast of many, from that day, that week... then looping all the way back through my life. 
      Once again, before the end, I was asleep.