All Washed Up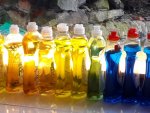 Sun, 17 Mar 2019
All Washed Up
As I've never been able or confident enough to make a decision I thought I'd struggle to choose one thing with me in the post-apocalyptic chaos of an uncertain future.   To quote a friend 'I used to be indecisive, but now I'm not so sure…'
So as I sat writing this I started to look at all the rubbish, trinkets, ornaments and general litter that has become my life and tried hard to find something that really mattered.  So, if the floods are about to reach biblical scale or the aliens have returned having sorted the common cold and my fate was sealed…what would I take with me to look back on?
The TV?  No such thing as electricity when the clock of progress has been rolled back to the dawn of survival.
How about my mobile?  Well, no banks with which to sort my affairs or a signal with which to pass endless, updates about what I ate for breakfast on social media.  No society anyway.
Okay, a set of pans (counts as one item) to cook with.  I mean food is basic isn't it? Ahh! I would need heat for that and in a barren darkness where fuel is spent I don't hold out much hope of finding an odd candle, let alone enough Joules to cook my food (If I could find any) so let's look further.
Well I can feel the fear in the reader…'is he really going to go right through the house!' Fear not I have found my comfort and now I present to you – my collection of washing up liquid bottles…
I tried to pick a miracle fix and be really profound, but I failed and turned to a bizarre collection of washing up liquid bottles that adorn the kitchen window shelf. 'What ya gonna do?  Wash up for the world?' I hear you ask.  No, they happened accidentally as I gathered the various 'BOGOF' bargains when out shopping list-less as usual and chose all the colours of the rainbow just in case we needed some more....  Arbitrarily, they measure thirty across my window and a chance conversation with a neighbour (who didn't think it weird as some have done) suggested I back-lit them with lighting. I did, and they look stunning as I enter the kitchen in the dead of night.  The colours shine a kaleidoscope of hope in my heart.  Like a soothing rainbow they bring me to a place of peace.  It that is weird then so be it.
You see they have been there for most of my time in this house and that is a long time.  I have returned to the sanctuary of that rainbow from so much and for me they are a place of peace; a meditation that cleanses my soul.  I can begin to pray, open my soul and let the dirt of a troubled world outside be dissolved in their soothing light. When I purchased them I do not know.  Some have sat for over twenty years; moving only when lovingly wiped to let the light shine clear.  The have seen much and if God gave them tongues they would recall a history of love, tears and memories that outweigh all the gold in the world.
Weird?  No, but unusual…yes.  Each emotion I entered that room with is locked in their light.  They do not condemn me or try to lead me.  They are that 'go to' place and my portal to meditation…It might be all I have after the flood or whatever makes me flee.