The Box Left Behind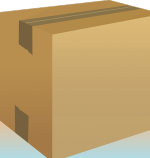 Sun, 08 Sep 2019
It isn't very often that one finds a genial house vendor who not only shows you round the property but also treats you to an afternoon tea on the back garden's lawn.
Colonel Harveybutnot comported himself in an impeccable manner and proved to be the perfect host.
 
It was with much regret that he was selling the dwelling which had been his home for a long time but he was emigrating to South America where he was embarking on a Diplomatic career.
 
We were told that he had packed all his belonging which had been shipped and that he didn't have any use for things left behind and we would be welcome to them if we so wished.
 
It wasn't until the following week that we found a taped box that must have been intended to be dispatched with the other shipment.
 
No one, not even the estate agent, knew the Colonel's forwarding address and we were unable to find the diplomatic mission to which he had been assigned.
Either it was a secret assignation or he had led us up the garden path. So we were stuck with the forgotten package.
 
Protocol said that we should have surrendered the box to someone in authority but to whom and for what purpose? We didn't know what was in it.
 
It was decided we should slice the tape with a knife and examine the contents hoping it wouldn't prove to be a Pandora box.
 
What we found instead was a cornucopia of written material in notebooks that resembled diaries but on further inspection seemed to be the manuscripts of a crime novel with realistic details of murders and various other villainies.
 
This delighted those among us who were bookworms or, like me, would-be writers.
 
The purple prose was so good that I even contemplated plagiarism to write a blockbuster based on the plot of that novel.
 
It was only as we delved deeper into the narrative that we started to doubt the assumption that this was a work of literature.
Dates, sometimes ten years old, and names mentioned had a resonance that led us to believe that what we were reading was a true chronicle of events.
 
I was sceptical about this interpretation but Mother, who thought of herself as a Miss Marple, deliberated that an investigation should take place.
 
By researching old newspapers and microfilms in the library she ascertained that the names we had come across in our readings coincided with persons who had disappeared with no trace in the years recorded in the manuscripts.
Obviously all that was circumstantial evidence which didn't amount to a proof of guilt of the absent Colonel, who could have been a callous criminal or an imaginative author.
 
The wise course of action was to present her findings to the department of police dealing with unsolved cases.
 
And that's where all the files, including the cardboard box, went.
 
We haven't heard anything yet but we all know that the wheels of justice turn slowly. Perhaps one day we may learn the truth.
© Luigi Pagano 2019