Remembering Bee Symbol Of Our Great Poets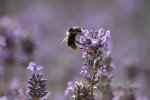 Thu, 03 Oct 2019
Wednesday 2nd October 2019.
Working in the garden
I gazed on one solitary
late summer bee today,
reminding me of soul's
determination to hold
on as long as possible,
It put me in mind of
the vivacity that was
celebrated in Bee's
poetic creations,
even as this woman
faced her swan song,
in eternal sleep
Bee's spirit travels
great distances,
now she's light...
pure like
a snow flake,
yet warm
as mother's milk,
that joy she gave
and shared in life
crosses passages
of time...for still
I hear and read
her cherished,
kind recognition
of my writings,
as I with pleasure
absorb hers too.
Numerous shining poets
have come and gone,
like Bee in words here
on abc tales their
memories are
commemorated,
across passages
of time
they continue
to shine.
Pixabay free image.