Aura (22)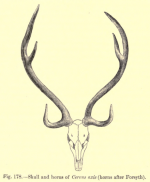 Mon, 19 Nov 2018
Edinburgh
2016
Gillis was slumped at the base of the wall, by the steel grate. His face was sallow and taut. Men and women in white overalls, elasticated shoe covers and large orange goggles moved curiously around the concrete room. 
They worked within the spectral pulse of blue light cast by the bulky alternate light sources stationed by the entrance. An orange filter was clipped in front of the blue light head. The SOCOs brushed fluorescent powder over the walls, the floor, the desks, the laptops, the computer and the server racks, leaning in to examine for stains blossoming in the faint, re-emitted fluorescence.
A man in overalls had cornered Mina. His goggles were pushed up over his hairline; he was speaking fast, jabbing a finger at Gillis. Mina nodded and clipped over, her shoes scuffing in their covers.
'We have to go,' she said. 'We have to let them do their work. It'll be a while before anything they turn up is processed, anyway. We're best to head back and wait for results.'
Gillis blinked. The blue wash was ethereal and unsettling. He eyed the goggle-wearing figures and felt like they were watching him.
'How long do you think they've been in there?' He whispered, chewing at a nail.
Mina caught a vision of the shaft, the metal pole, the kneeling skeletons. She brushed her fringe back and rubbed her forehead.
'I don't know. It's hard... it's impossible to have a stab at timelines. Decomposition... depends on a lot of elements. They'll run tests. Look for traces of tissue. We have to wait and look at the broader ramifications on the case. A lot of confirmation and a lot of new questions.'
She paused and looked around. The SOCOs seemed to be moving in stop-motion through the blue wash. She blinked and shook her head.
'The one thing that really troubles me is that I don't think this place has seen a great deal of recent use. You saw the state of the house. This room, the tunnel. It seems a remarkable piece of work, a lot of effort, but I don't think it's seen that much use recently. I think there's been a lot of people here at one point, in whatever capacity - take the cages - but in general, the place seems semi-abandoned. It possibly even just functions purely as a server hub now.'
Gillis pulled himself up and walked past the ALS rig, stepping over cables and onto the staircase. 
'I don't like the sound of that,' he mumbled. 'You're saying there might be other places like this. I do not like the thought that this is just a fucking branch in a franchise.'
'I'm not saying that,' Mina snapped. 'That's not what I said. But I do think there's worrying implications.'
Gillis leaned on the metal banister and closed his eyes for a beat. Mina looked at his dishevelled features. Her face softened. 
'Right now we should be getting you out of here, though. You weren't right in there. You were verging on a panic attack. I didn't - I didn't see things playing out this way when I asked you to join us here on secondment. I thought we'd be trawling files, cross-referencing cases, I didn't - I had no idea this was all coming, so fast. I don't want to... I don't want to put you in positions, environments that dredge up bad memories, I - '
'Ach, that happens every day,' said Gillis, slumping up the steps. 'As soon as I get out of bed.'
*
It was past eleven pm by the time they returned to Gayfield Station. The CID suite was deserted. Gillis collapsed into a chair. Mina left the room and returned bearing a large cardboard mailing box, taped shut and postmarked. She eased it onto the desk and looked at him.
'Gwyneth Paltrow's head?' He sighed.
'Copies of the 1988 files from the cold case unit,' Mina said, tapping the box. 'We'd been on at the SCRT office in Strathclyde. They just arrived today.'
Gillis's red-scored eyes lit up. He stood and peeled a strip of tape from the box. Mina leaned over the desk and placed a hand on his arm.
'We can do this tomorrow,' she whispered. 'There's going to be a waiting period. We'll try and push through anything that turns up. It's a big case. Violent crime. But even so, things like latent prints, we could be looking at a few day's down time. It's been a long day. A hell of a day. You need to sleep. Which hotel did they put you up in, anyway?'
Gillis stared vacantly. He shook his head, sat down, pulled his phone out, and scrolled back through his emails.
'Radisson,' he said. 'Royal Mile.'
Mina walked over to the window and closed the blinds.
'You'd best ring them and let them know you're arriving late. There should be a night porter to check you in.'
Gillis looked between his phone screen and the box.
'Aye,' he breathed. 'Aye, I will. I might... I might just sit and have a wee gander at these before I go. Been a while, you know.'
Mina sighed.
'I need to sleep,' she said. 'I have to go. This is your first day here and I'd be leaving you sat alone in the CID suite, after treating you to a welcoming network of underground tunnels, caged cells, ritualistic symbols and skeletons, it doesn't sit so well with - '
Gillis wheeled his swivel chair closer to the desk and tore a tape strip from the side of the box.
'I don't sleep that well at the best of times,' he said. 'I'll ring the hotel. You're fine, don't worry. It's fine. It's significant progress.'
Mina lingered at the door, her head bowed. She looked shattered.
'DS Mina,' Gillis muttered.
She looked up. A twist of tape fell from the side of the desk and floated down to the carpet.
'Where do you see the website in all of this?' Gillis said. He ripped another length of tape free and opened the flaps at the top of the box. 'This 'Cthonic Market'? Is this... these bitcoin addresses, or whatever... can you get to the amounts of money being bandied about? Track specific amounts? Are they worth brutally murdering someone? Bitcoins? Are there vast fortunes to be, to be... disembowelling folk over?'
Mina was quiet. She pressed her head against the door. Gillis's voice was almost a whisper as he heaved stacks of sheets out of the box and onto the desk.
'Is it just a wee corner in something much bigger? Just another outlet?'
Mina ground her palms into her eyes.
'I think there's a difference between killing someone because you need to, and killing someone because you want to,' she said. Her voice was weak, cracking.
There was a long silence. A horn blared in the streets outside.
'Do you think there are places underground that we don't know about? Terrible places?' Gillis said.
Mina looked at the cardboard box. She blinked rapidly. Her eyes were dewy.
'I think we need to find the people responsible for these crimes,' she said quietly.
*
Once Mina had left, Gillis re-opened the blinds and cracked the window, lighting a cigarette and watching the streetlights and midnight traffic on Leith Walk. His head felt fuzzy and numb, a peculiar post-panic comedown. 
It felt strange to be in a new building, to be far away from his flat, his sofa. It felt strange to be moving around in it, talking to large groups of people. Working. It felt even stranger when he weighed it up against the years he'd spent on that sofa. Washing propananol down with flat coke. Pissing in bottles to avoid moving through the darkness beyond his living room. Moving his lamp around the table beside him, chasing the shadows away.
Chasing Shetland away. The sewerage pipe. The screaming girl. The hole in the earthen wall.
It had happened again. It had happened again, today. After all these years. He had felt the panic. He had felt the familiar fear. But he'd been there. After all that time, all that time in his flat, replaying the events by Sullom Voe oil terminal. Letting it take from him. Letting it take his sovereignty and spark. 
He'd been there, today. And it was horrible. It was terror.
But it wasn't as bad as the years had tried to make it, he thought.
I was working. I was there.
Fuzzy and numb. A post-panic comedown. And something else. Something else he hadn't felt in a long time. Something unmistakable.
He spent several minutes pissing about with the touch screen control panel on the photocopier, trying to suss it out. Then he cranked the heating up, cracked the remaining windows in the room open, and chain-smoked while he copied the files in the cardboard box, his head a web of links, case points and anger. 
He recognised this and felt it distinctly, but the shift that guided him and kept him churning out copies and poring over them well into the wee hours was that it was a quiet anger, a controlled anger. Within it there was a spark, an end point, a destination, a reason to be.
*
Someone was pounding on the door.
Gillis ground his face into the plush pillow and groaned. The present flooded in and he spun round and struggled up. Knocks rattled. The flat screen TV opposite the bed was still turned on, replaying looped aerial footage of the cottage in Pentland Hills Regional Park over a yellow strip of rolling news headlines.
HIDDEN BASE LINKED TO EDINBURGH MURDER
That wasn't good. Someone must have blabbed.
He flapped for his phone: dead. Shit. No alarm. He caught the time on the bottom left of the TV screen. Two pm. Shit.
He remembered crawling into bed around six am. Barely registered the room - he took in the dreich modern garb as he hastily pulled trousers and a shirt on. Greys and whites. A monochromatic overdose with weird trimmings of acid-yellow provided by the odd cushion. Fuck, it wasn't his own sofa in his own manky flat, with his bottles of piss and wank rags. You're here. You're working.
He caught himself in the glint of the flat screen as he lurched across the room. Puffy eyes. Pillow marks on his cheeks. He felt shattered, anxious, angry as he pulled the door open. Mina exhaled and dropped her balled fist.
'Your phone's off,' she said.
'Dead,' he mumbled, defensively.
'It's two pm,' she said, throwing her hands up.
'What of it?'
Mina sighed and looked past him to the flat screen. A haunted look played across her face.
'Three latent prints,' she said, still watching the TV. 'Processing and identification were pushed through on DCS Blair's orders. One positive match.'
Gillis felt himself tense. Mina pulled her eyes away from the screen and addressed him.
'Garry Salter, forty-nine years old. A known local drug dealer. Previous convictions for dealing heroin and cocaine, and also for assault and robbery. He's served several terms at Saughton Prison.'
She stopped and breathed.
'He's been picked up and cautioned. We're holding him at Gayfield for questioning. Seemed pretty intoxicated when he was taken in, though. And I'm not convinced it's just drink. We thought to give him a couple of hours, a couple of coffees, let him sweat some of it out... get past the slurring and stumbling... '
'Screw that,' Gillis said, grabbing his jacket off the floor and turning towards the en-suite bathroom. 'Saves softening him up.'
*