The seasons' round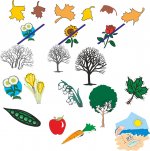 Mon, 05 Oct 2020
1 likes
Autumn leaves are falling down
falling down, falling down,
Soon the flowers all have gone
— Summer's finished!
Winter trees are dark and bare,
dark and bare, stark and bare,
Soon new leaves and flowers they'll wear
— Spring is coming!.
In the Spring-time flowers grow,
grasses grow, flowers show
leaves and pretty flowers grow
— Summer's coming!
Summer sunshine bringing fun,
farmers' crops fill the shops,
thanking God for fun and crops
— safe for Autumn …
Autumn leaves are falling down …
Tune: London Bridge is Falling Down!
I used this in Toddler group and well received, though I don't think we got right through to summer at the time! You can do actions to it, leaves falling down, bare trees stretching up, flowers growing, clapping.
[IP: nursery rhymes and fairytales for our times.]