Dipper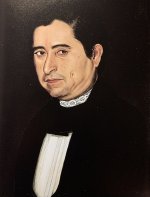 Thu, 04 Feb 2021
A dipper bows to the water,
sings to it, to be one with it,
then a bob and dive
into its hunger - little priest, 
milk-bibbed, cassocked 
for a flight of prayer.
It seems absurd
to have wings for swimming,
but we understand 
contradictions; 
we are riddled with them. 
 
But I am prone
to drowning, inclined
to descend 
too far, and so my songs
are for stars, asterisms
of light that follow
a cold North, to bears,
dippers, dismissed
to the solitude of space, 
forgotten
in a constellation of stones.
Sometimes I think that hope
will be the death of me -
in the way life is clutched
in the pearls
of a dipper's eggs:
nestled moons clasped 
in moss and oak leaves. 
And how I would tend
to these delicate hearts,
already beating
with their river wisdom. 
 
Image is from here: https://commons.m.wikimedia.org/wiki/File:1854,_Portrait_of_a_Priest_by_Hermenegildo_Bustos.jpg
Also on Twitter: https://commons.m.wikimedia.org/wiki/File:Cinclus_cinclus_1876.jpg
https://commons.m.wikimedia.org/wiki/File:Ursa_Major_cph.3g10058.jpg
https://www.wikiwand.com/en/Ursa_Minor