"Willow's Tail" 2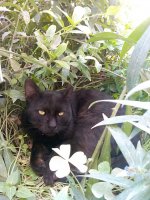 Sat, 20 Mar 2021
1 likes
Martha's brow furrowed at the sound of the door bell. She placed her nearly cold tea down on the side table.
"Was there no chance for a relaxing moment in this already disturbed evening?" She groused as she walked to the front door and opened it to stare at the tall, handsome, young man wearing an outrageous purple suit and orange tie giving her a friendly smile.
"Good evening," he said.
Martha had no idea who he was or why he was here.
"Can I help you?" She asked with curiosity.
"I have a letter and package for you." The smiling, young man said as he put his hand into his slim jacket and retrieved a letter.
"Thank you," she said accepting the letter and watched as he again placed his hand inside the slim fitting jacket. This time he produced a small package.
"There you go I knew it was there somewhere," he said handing the brown, paper wrapped box to her and almost as an after thought, asked, "You are Martha Candlelight?"
"That's Kendelite," Martha corrected.
"Isn't that what I said? Oh well, it is you right?" he asked cheerily.
"Yes, I suppose it is," she said eyeing the package that had no address on it at all, same as the letter.
"Lovely, then just sign here and it's all yours," he said taking a small orange tablet and a purple feathered, quill like stylus out from the other side of that rather slim jacket.
Martha took the feathered stylus and signed at the x on the small tablet's screen.
"I must say, you're not easy to find. Not on the map are you?" He asked with a knowing smile as he put away the tablet and stylus.
"No, but somehow you managed to find me," she said with a quizzical look.
"Yes I did," he crowed proudly, "I am the best at my job they say."
"Well lucky for me the package and letter were given to you then."
"That you are, well I've more deliveries to make so good day to you Martha."
He tipped his nonexistent hat and walked down her path but before he reached the end of it, he turned into the strangest purple and orange bird Martha had ever seen. Luckily,none of her neighbors were about so the oddity was only seen by her and Willow.
Willow wandered over to her human and watched the odd bird disappear.
"A package and another letter Willow. How mysterious this day has become," she whispered to her cat.
Willow looked up with inquisitive eyes at the box she held.
"Yes, I suppose I'm curious to know what's in it too. Let's go inside and see what has come to us."
Martha placed the package on the kitchen counter and opened the letter. It was again from her soon to be visitor.
Dearest Martha,
I do so hate to impose on you but am so grateful you have received my first letter and if you are reading this, my second as well. I trust my visit is acceptable to you as I had advised my circumstance is dire. I need a place off the beaten track as they say, for just a while as I settle some unsettling portions of my life. While I accomplish this I simply cannot be found and I know your home will be the perfect place to stay incognito, as I could not find you. Not until I stumbled on this very special delivery agent but we can talk about that more when I arrive tomorrow. I do hope you like the small token of my gratitude for your kind hospitality that I've sent along with this letter.
Warmest regards,
Perfidia  Mishapsham
A heavy sigh escaped Martha as she put down the letter next to the package on the kitchen counter and looked at the box with trepidation. One could never tell what Perfidia would think an appropriate gift. She was not the best at thinking of others and probably why she needed to hide out now.
Willow jumped up on the kitchen stool and placed her paw on the package.
"You don't want me to open it either do you?"
Willow gave an affirmative meow and Martha chuckled.
"Smart feline aren't you but there's no point in putting it off, we may as well find out what she has sent us."
Willow did not remove her paw, instead she leaned closer to the package and her ears pitched forward listening for any sounds in the box. Convinced there wasn't anything worrisome she extended her claws and torn several rips into the brown paper covering.
"Thank you," Martha said and tore the ripped covering completely from the box and, to her true surprise, found it was a tin box of her favorite tea.
She picked up the tin and showed it to Willow.
"Imagine that, after all these years, she actually remembered the tea I like." She laughed and turned to place it on the shelf next to the stove. "Maybe Perfidia has changed. Maybe her visit will not be the whirlwind of trouble I'd imagined it would be?" she said to her feline companion.
Martha stared at the tin and began to look forward to the visit and decided maybe a nice cup of tea would settle the rest of her evening too, and she lifted the kettle to fill it.
The feline tilted her head not quite convinced of the gift being benign and sniffed at the packaging still on the counter. The whiff of trouble that hung on those tattered, paper edges made Willow sneeze and she knew the hand that wrapped this package had not changed at all.
Willow meowed a guttural warning to her human friend but she was too busy filling the kettle with water to hear her.
Martha made her cup of tea with her new tea leaves and smiled with anticipation as she took it into the living room to enjoy.
Willow followed Martha into the living room and tried to catch her attention but when she got close, the strange aroma of that tea made her sneeze. She sneezed three times in a row and because the aroma seemed to permeate the whole house now, she had to leave it. That tea may be her human's favorite but it was most unpleasing to her.
Willow jumped through her pet door into the garden and the affliction was gone. She sat a moment and shook her head, then blew through her dainty nose to exhale any left over aroma. Feeling herself again, she walked further into the garden and under the shade of the delphiniums.
The morning songbirds were chirping happily on the branches and Willow awoke to a sun filled sky. It was unusual for her to fall asleep outside. It was not that she didn't like the outdoors, she did, but she had a warm comfortable cat bed in the house and she always slept there. And stranger still, she had not heard her human call her in last night, very strange.
Willow stretched and licked her paws to clean her face then slowly sauntered to her pet door and jumped through it.
Willow did not smell her usual breakfast when she entered and that too was curious. The next curious thing, were the voices she heard coming from the kitchen.
Willow followed the voices and found her human sitting with another both drinking that strange smelling tea and instantly her eyes watered and she sneezed.
"Oh Willow there you are; I hadn't seen you this morning and wondered where you'd gone to so early, Martha said with concern.
The other woman at the table turned around and smiled at the cat.
"What a beautiful feline," she said with interest.
"Willow, come and meet my friend Perfidia while I get you some breakfast," Martha said to her cat as she stood up and walked to the pantry for Willow's food.
Willow did not step closer, she thought the red haired human had a mischievous glint to her eye and decided she'd stay where she was.
"You are a cautious cat aren't you?" Perfdia said with a tilt to her head.
Perfidia and the feline locked eyes both assessing the other.